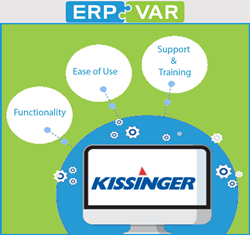 "Our Kissinger Associates team has noticed ERPVAR.com over the years and we decided to partner with them to extend our marketing reach. They are responsive and knowledgeable about marketing ERP solutions." Joseph Powell, CPA, CGMA Vice President of Business Development at Kissinger Associates
DANA POINT, Calif. (PRWEB) January 09, 2020
ERPVAR.com announces a strategic partnership with Kissinger Associates, a leading provider of Acumatica Cloud ERP software, Sage 100cloud ERP software and solutions for EDI and eCommerce integration. Kissinger Associates joins ERPVAR's exclusive network of Sage and Acumatica partners.
The ERPVAR directory for Sage and Acumatica partners highlights Kissinger Associates' offerings. Thousands of ERPVAR blog subscribers will benefit from Kissinger Associates' insight and expertise via guest blog contributions. Kissinger is headquartered outside Philadelphia but has consultants throughout the US. Small, mid-sized and enterprise-level businesses of all types turn to Kissinger Associates for solving business challenges with ERP software automation. Kissinger Associates specializes in helping wholesale distributors, businesses requiring e-commerce and EDI automation, field service businesses, manufacturers, technology companies, and professional services businesses.
"ERPVAR is proud to work with Kissinger Associates. They have an outstanding reputation in the ERP community. We look forward to sharing their insights and expertise through their guest blogs!" Adrian Montgomery – Partner at ERPVAR
About Kissinger Associates, Inc.
Since 1985, Kissinger Associates has been one of the most trusted business software and consulting partners in North America. In addition to consulting, reselling, installing, training and supporting Acumatica and Sage solutions, Kissinger's development team supports solutions developed in-house including; Web-Stor® eCommerce integration solutions, EDI Advantage™ integrated EDI solutions, and add-ons including; AIA, Job Cost Billing, Certified Payroll, and Union Automation. For more information, please visit the Kissinger website https://kissingerassoc.com/ or call 800-562-5456 or email info@kissingerassoc.com.
About ERP VAR
Established in 2012 and headquartered in Orange County, CA, ERPVAR represents the collective expertise of Sage 100cloud, Sage 300cloud, Sage Intacct, Microsoft Dynamics GP, NetSuite, Acumatica and QuickBooks Enterprise third-party developers combined with the expertise of local implementation ERP consultants. These local ERP consultants provide end-users with a thorough needs analysis to determine which ERP software functionality is required to address their unique needs. If a business process assessment is required, the local channel partner is enlisted to provide a comprehensive examination with end-user company departments to ensure the correct ERP software is selected, implemented and the staff is properly trained. For more information, please visit https://www.erpvar.com.