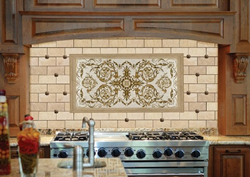 Single-piece decorative wall plaques are a gorgeous stand-in for intricate, hand-laid mosaics, and are just as DIY friendly as more common tile sheets.
(PRWEB) March 04, 2015
HomeThangs.com – the Online Home Improvement Store has made their goal to deliver the right product to the consumer. With that in mind, shopping and home design tips, as well as special product selections are being introduced.
Kitchens tend not to have a lot of wall space. Between upper and lower cabinets, windows, and doorways, there aren't many opportunities to add color or detail to a kitchen's walls. The big exception is the big, empty space between the top of the stove and the range hood. This is the biggest patch of empty space in most kitchens, and nearly all kitchens have it, no matter how big or small. HomeThangs.com has released a new guide to a simple, affordable, DIY friend way to dress up that blank space: with decorative wall plaques.
Decorative wall plaques are essentially large, lightweight tiles that are elaborately decorated, either with etchings or carvings, that are meant to act as the centerpiece of a larger tiled area. That makes them a perfect choice for that problem spot in the kitchen: they're just the right size to fit, and are relatively easy to install. Paired with the mosaic tile sheets that are commonly used for backsplashes in the kitchen and bathroom, decorative wall plaques make it possible to build an elaborate, professional looking tile installation with a fraction of the time, expense, or skill needed for an equivalent hand-laid mosaic. Adding a few extra layers of tile to create a frame and border around a decorative wall plaque will make the tile look vastly more polished and professional, without significantly increasing the scope or difficulty of the project.
For a more in-depth look at using decorative plaques to build a better backsplash accent, check out the full article here.
HomeThangs.com is not only a home improvement superstore, it also provides expert design tips and a comprehensive shopping guide, taking the ideas from professional interior designers, and offering tips to the consumers on how to pick the products to best suit their needs.