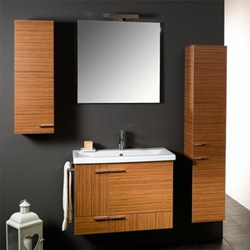 For almost all types of cabinet doors, it's helpful to consider the door not as a single piece, but as a frame holding a panel of wood in the middle, like a picture.
(PRWEB) December 15, 2013
HomeThangs.com – the Online Home Improvement Store – has made their goal to deliver the right product to the consumer. With that in mind, shopping and home design tips, as well as special product selections are being introduced.
There are so many different kinds of cabinet doors to choose from that doing so can be more than a little stressful and confusing for all but the most seasoned cabinetmakers. HomeThangs.com has introduced a simple guide to a few of the most basic styles (and how they get dressed up) to make it a little easier to get just the right look, whether it's on a new or refaced kitchen cabinet or a new bathroom vanity.
Flush/Slab
A flush or slab cabinet door is both the simplest and the most modern option out there. Quite simply, this is a smooth door face without any woodwork or ornamentation. Usually made with a high quality plywood core, slab cabinets can be veneered to have a variety of different styles, from authentic wood to a more modern wood "print" or, as is becoming more popular in kitchen cabinetry, a solid, bright color. These are best paired with simple hardware or no hardware at all for a totally seamless appearance.
Flat Panel
For almost all other types of cabinet doors, it's helpful to consider the door not as a single solid piece, but as a frame holding a panel of wood in the middle, like a picture. The frame itself can be simple or decorative, while the middle panel can be made of wood or glass, with carved or painted details or even latticework. On a flat panel cabinet door the panel is – as the name implies – simply flat. The frame itself can have some decoration, especially inlaid moulding, but on a flat panel cabinet door, that's usually the only decoration.
Raised Panel
Raised panel cabinets, on the other hand, have a middle piece that's raised up and protrudes out from the surrounding frame. Generally there's a deep groove surrounding the center raised panel (where the frame holds it in place), but otherwise the level of detailing is up for debate. The simplest ones will only have the raised center pattern, while Colonial of Victorian versions will have multiple inlaid rectangles of varying thicknesses, creating a frame within a frame within a frame.
Shaker/Mission/Craftsman
Many designers will loudly proclaim the obvious, dramatic differences between Shaker, Mission, and American Craftsman/Arts and Crafts style cabinets. And it's true that, historically, each of the three designs has a different inspiration, was made using different techniques, and is generally associated with a different material. But practically speaking, there's really no difference: all these designs consist of a simple, squared frame with a flat panel inside. This style has become especially popular lately, as it has a simplicity that works well with a modern decor, but just a hint of casual, old fashioned style.
Beaded
Beaded cabinets, or beadboard cabinets, are essentially flat panel cabinets where the flat panel has thin repeating vertical grooves reminiscent of traditional beadboard wainscoting. The frames themselves can be simple or more ornate, depending on the style of the bathroom or kitchen they're used in, but are often painted white to evoke a simpler country or cottage style.
Shuttered
Similarly, shuttered cabinet doors replace the interior panel entirely with simple shutters. These can be wide or very thin, but aren't adjustable. In a bathroom, this style is a great way to evoke a Cape Cod design, and in a kitchen they have the slightly more practical application of helping improve ventilation in the cabinets, which is especially nice for storing root vegetables.
Arch
Last but not least, it's worth remembering that while almost all cabinet doors are based on a frame surrounding a panel, the inside edge of the frame itself doesn't have to be perfectly square. A simple arch is a fairly common embellishment, either as a gentle curve over the top or bottom edge, or a slightly more pronounced bump up in the center of the top edge. Often an arch is paired with other embellishments, like inlaid moulding or other woodwork, latticework, or glass panels to evoke a Colonial or Victorian style.
To learn more about common types of cabinet doors, check out the full article here.
HomeThangs.com is not only a home improvement superstore, it also provides expert design tips and a comprehensive shopping guide, taking the ideas from professional interior designers, and offering tips to the consumers on how to pick the products to best suit their needs.