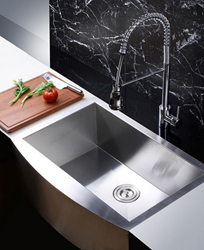 Form and function are equally important when choosing a kitchen sink, but style comes out ahead when the design of the kitchen as a whole is very distinct.
(PRWEB) June 03, 2014
HomeThangs.com – the Online Home Improvement Store has made their goal to deliver the right product to the consumer. With that in mind, shopping and home design tips, as well as special product selections are being introduced.
There are many factors that contribute to the overall style of a kitchen, from the floor to the cabinets and everything in between. But the kitchen sink is the real heart of every kitchen, no matter what size or style. HomeThangs.com has introduced a guide to choosing a sink that will help enhance the aesthetic of the kitchen as a whole.
Farmhouse
The most traditional choice for a farmhouse or cottage style kitchen is the classic farmhouse sink. Also known as apron sinks, these beautiful kitchen sinks are made of fireclay or porcelain and ooze old fashioned charm, but are also highly durable and very large, which means they're great for washing dishes for a crowd. Antique porcelain trough sinks are another classic option. These gems are a bit difficult to find new these days, but install like traditional drop in sinks and typically come with integrated drainboards and backsplashes that make them real workhorses.
French Country
Fireclay apron sinks can work great with a French country style, too, but this slightly fancier, slightly more sophisticated style really deserves a kitchen sink that's a bit more elegant. White fireclay sinks should have decorative aprons rather than smooth, unadorned faces, but copper sinks are an even better option. These have a much more regal appearance (particularly when the apron is embossed or otherwise decorated), but still have just enough of that artisan charm to fit with the "country" part of a French country style.
Modern
Concrete is becoming a hugely popular material in the kitchen – particularly for the floors and countertops – and a concrete sink is a great, striking addition to a more contemporary space. They can be built directly into a concrete counter top or installed on their own. The distinctive shade of gray is immediately recognizable, but the sinks themselves are typically very smooth and non-porous (due to special coatings), which minimizes concerns about the surface scuffing dishes or staining.
Restaurant Style
Restaurant style kitchens are another modern look that's seeing a big boom in popularity, and another style where choosing the right sink really matters. A kitchen full of big, heavy duty stainless steel appliances really demands a professional quality stainless steel sink. These are large and deep with an unusually high capacity, and more than almost any other material are designed to take a beating. They can have an exposed front or apron, but most are undermount sinks or even integrated into a stainless steel countertop for a seamless, restaurant-style workspace. Look for sinks with sharp, zero radius corners for a slightly higher capacity and a seamless, professional, and very modern look.
Rustic
On the opposite end of the spectrum, rustic kitchens on warm, earthy, and handmade items, from hand-scraped hardwood floors to barn beams and rustic cabinetry. Once again, plain white farmhouse sinks can work with this style, but unadorned, hand-hammered copper sinks really shine. These have a gorgeous, rustic appearance and natural patina in a deep, earthy brown. Their rugged, dimpled surface keeps this material from feeling too fancy for a rustic kitchen, and brings a really fantastic artisan quality to the space.
Small Kitchens
In a smaller kitchen, it can feel like there isn't much room to get creative with design, simply for a sheer lack of kitchen area. But that lack of space only makes the sink proportionally more important. For a sleek, clean style that's also highly functional, look for a sink that comes packaged with accessories, particularly a cutting board and colander. These items are designed to sit firmly on the rim of the sink, turning it into a prep area when needed and packing away neatly between uses.
To find out more about choosing the right kitchen sink for a particular style, check out the full article here.
HomeThangs.com is not only a home improvement superstore, it also provides expert design tips and a comprehensive shopping guide, taking the ideas from professional interior designers, and offering tips to the consumers on how to pick the products to best suit their needs.