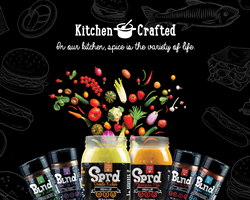 "In a relatively short amount of time, we have proven our business model as major retailers are carrying our products aligning with the ever-changing trends of consumer palettes. Ultimately our objective this year will be continued investment into R&D and category extensions."
ORLANDO, Fla. (PRWEB) March 27, 2020
Kitchen Crafted Creates a Food Product Portfolio Powered by Spice with Its Globally Inspired Bold Flavors and 100 Percent Natural Ingredients. The specialty food brand powers into mainstream retail space as it continues to launch two new products: Salt BLND® and AMPower® Energy Bar.
As our nation is ravaged by COVID-19, consumers are feeling the impact of empty store shelves, items out of stock online and restaurants running on a limited basis, Kitchen Crafted brightens up the at-home eating experience by elevating simple dishes to creative creations and bringing global cuisines to every American home. They are thriving in today's climate with an abundance of sales. For a self-funded company like Kitchen Crafted, this provides a great opportunity to serve consumer needs by partnering with big retailers for a continuing growth strategy.
The brand's product lineup includes globally-inspired spice blends (BLND®) and spreads (SPRD®). Kitchen Crafted is on a mission to create complex flavor profiles within your home-cooked meals as it keeps ingredients healthy and naturally-sourced. BLND® and SPRD® products are not only flavor-powered, they're non-GMO, kosher and gluten-free.
As consumers are welcoming these health-conscious and palate-pleasing BLND® and SPRD® varieties onto their plates, they find themselves transported around the world within enhanced flavors. For some, a daily meal becomes a whole new experience. Kitchen Crafted co-founder Niroo Kamdar discovered consumers couldn't wait to open their taste buds to more.
In a little over one year, Kitchen Crafted was picked up by 1,300 major retailers including Albertsons, H-E-B, Meijer, Shaw's, Harris-Teeter and Big Y. According to Kamdar, non-GMO, gluten-free products appealing to flavor seekers and mindful eaters were imperative to an effective brand strategy.
"In a relatively short amount of time, we have proven our business model as major retailers are carrying our products aligning with the ever-changing trends of consumer palettes. Ultimately our objective this year will be continued investment into R&D and category extensions."
The brand powered by spice plans to introduce new products from this strategy already. Its product portfolio will soon expand to include a unique line of SALT'D BLND® and the keto-friendly energy bar, AMPower®.
The salt blends/rubs are intended to be used in a variety of ways so flavor-seekers can upgrade the taste of their favorite meats, seafood, veggies and beverages in healthier ways. Each bottle is equipped with a custom grinder making them fun to use as they produce freshly ground salt and spices. This type of packaging also helps the cook evenly season foods and easily control the amount being used.
The AMPower® spice-infused energy bar is leveraging Kitchen Crafted's thought leadership in an innovative way. Each bar contains 20 grams of protein, 100 milligrams of caffeine and 11 grams of prebiotic fiber. It's a satisfying snack for on-the-go moments and those who lead active lifestyles. With less net carbs and calories than two eggs, two slices of bread and one cup of coffee, it becomes the ideal breakfast meal replacement. AMPower® will be introduced in four flavors: Chocolate Mocha with Himalayan Salt, Salted Caramel Latte with Himalayan Salt and Cinnamon, Black Forest Cake and Lemon Tart.
"After spending over 50 years in the food industry both on the client and consulting side, my vision was to create a holistic product portfolio that is driven by our knowledge and expertise in spices and flavor enhancers," Kamdar said. "Having had the opportunity to travel the world and experience global cuisine, my passion was driven by my innate desire to introduce the time-honored benefits of spices in creative and innovative applications, while ensuring our products are clean and made from 100 percent natural ingredients."
Look for Kitchen Crafted as it continues to explore methods to achieve a national-scale presence. Kamdar's future company plans include the development of other channels such as mass retailers, convenience stores, food service and travel/hospitality.
About: Kitchen Crafted creates globally-inspired spices (BLND®) and spreads (SPRD®) to fit the needs of all foodies alike. Dropping the "E" and "A" from SPREAD for "Everything Artificial" in SPRD®, Kitchen Crafted creates a new category of non-GMO, gluten-free, kosher-certified food flavors powered by their "eight signature herbs and spices." Using only the healthiest and most naturally-sourced ingredients available today, mindful flavor seekers can rejoice when they use SPRD® as a sandwich or burger topper, tasty dip or the secret ingredient in their sauce. The BLND® adds a tasty touch to meals, dips, sauces and marinades. Kitchen Crafted herb and spice combinations infuse your dishes with the natural power of spice so health-conscious foodies can add a kick of flavor to everything.