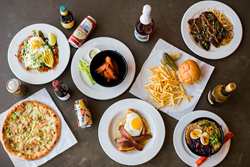 "We are looking forward to bringing our dedication to welcoming hospitality to our new location in First Street Napa," stated Tim Seberson, managing partner.
NAPA, Calif. (PRWEB) April 13, 2021
Kitchen Door today announced it will relocate to Napa's open-air downtown collective, First Street Napa. The new, larger space, complete with additional patio seating, is the perfect backdrop for the warm hospitality culinary connoisseurs have come to expect from the beloved local restaurant. Chef Todd Humphries will also refresh Kitchen Door's menu, though classic favorites will remain. Opening in Winter 2021, the new Kitchen Door will be located at 1300 First Street, Suite 272, off Clay Street Promenade. The restaurant, which has anchored Oxbow Public Market for a decade, will formally close that location in June 2021.
Chef Todd Humphries plans to bring his globally eclectic menu to the new location, featuring much-loved dishes handmade with local and seasonal ingredients. The focus of the menu will remain ingredient-driven and prepared by classically trained chefs. Locals and tourists alike will appreciate the open-daily schedule with lunch and dinner service, and a welcomed brunch service on Saturday and Sunday. Fresh salads, wood-fired pizzas, and other favorites like the roasted half chicken will remain on the menu, along with drink selection combining locally crafted favorites with globally inspired offerings.
"Kitchen Door is an established favorite in Napa, with an ambiance and menu that invites guests to relax," said Andrew Mazotti, director, First Street Napa. "With a loyal fanbase and great appeal for visitors, it's an excellent fit for downtown, and we look forward to welcoming them to First Street Napa."
In 2011, when Humphries co-founded Kitchen Door, the mission was simple: create a restaurant that would serve a variety of appetites. "We wanted our cuisine to be sophisticated, but not fussy," Humphries says. "Our menu is elevated by the quality of our ingredients and the complexity of our flavors, but the dishes are approachable for every palate."
With comfort in mind, the space will be designed to flow freely between the interior restaurant and bar that opens into the patio seating. Guests will enjoy an inviting atmosphere with the reputable, warm hospitality for which Kitchen Door is known. "We are looking forward to bringing our dedication to welcoming hospitality to our new location in First Street Napa," stated Tim Seberson, managing partner.
About Kitchen Door
Since 2011, locals and Napa Valley's many visitors, from foodies to families, have celebrated Chef Humphries' cuisine in a venue of comfort and value. The food is local, seasonal, handmade, and ingredient driven. The globally inspired menu is conceived and prepared by classically trained chefs. Visit KitchenDoorNapa.com to learn more, and follow along on Facebook, Twitter @KitchenDoorNapa and Instagram @KDNapa.
About First Street Napa
First Street Napa is a 325,000-square-foot mixed-use development and artisan collective spanning three city blocks in the heart of downtown Napa and featuring space for 45 fashion and specialty retailers, restaurants, tasting rooms, creative office spaces, and the boutique Archer Hotel Napa. First Street Napa's distinctive retail, agrarian landscaping, approachable dining, and wine country charm make the destination unmistakably Napa. For more information, please visit firststreetnapa.com and follow along on @FirstStreetNapa on Facebook, Instagram and Twitter.