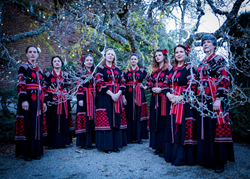 Simply amazing harmonies…truly this is the most wonderful singing I have ever heard. —David Crosby, CROSBY, STILLS, AND NASH
SAN RAFAEL, Calif. (PRWEB) November 01, 2018
The ethereal, haunting and beautiful songs of Kitka's music has become a traditional and favorite concert for families throughout the Bay Area. This winter, Kitka celebrates the release of their much anticipated new CD, "Evening Star," sequel to "Wintersongs," an album praised by NPR as "a refreshing spin on traditional seasonal choral music… thoroughly marvelous."
The exquisite and unusual seasonal music draws from a wide variety of Eastern European ethnic and spiritual traditions offers a wildly popular and unique celebration for the winter season.
This winter holiday program includes sacred and secular pieces inspired by cosmic wonders and earthly rituals of the winter season. The music of Evening Star includes meticulously researched and creatively arranged songs sung in Bulgarian, Russian, Romanian, Georgian, Yiddish, Latvian, Serbian, Ukrainian, Mingrelian, Svan, Laz, and Greek interspersed with sonic surprises guaranteed to enchant the ear and stir the soul.
Kitka's program has captured, celebrates and shares the power of community singing that would infuse warmth, cheer, spirituality, and wishes for peace, health, and good fortune into the long, dark, cold and difficult winter season across the Eastern European borders.
Join The Kanbar Center For The Performing Arts as they warm up the winter and celebrate the season through beautiful vocal harmonies.
"A brilliant musical program…all of it performed with accuracy and flair." — Don Heckman, LOS ANGELES TIMES
VIDEO: https://youtu.be/aQx2Xfo7mhY
WHAT: An Evening of Wintersongs performed by KITKA Women's Vocal Ensemble
SEATING: Reserved & general admission choices
TICKETS: $25 – $35 / Ages 17 & under $10 | Available at marinjcc.org/arts
WHEN: Sat. Dec. 9 @ 5 p.m. | Doors | Beer/Wine/Concessions open @ 4p.m.
WHERE: The Osher Marin JCC, 200 North San Pedro Road, San Rafael.
PARKING: Ample FREE parking | The Osher Marin JCC is 1/2 mile E off 101.
KITKA is an American women's vocal arts ensemble inspired by traditional songs and vocal techniques from Eastern Europe. Dedicated to developing new audiences for music rooted in Balkan, Slavic, and Caucasian women's vocal traditions, Kitka also strives to expand the boundaries of folk song as a living and evolving expressive art form.