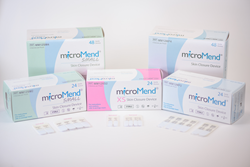 SEATTLE (PRWEB) May 22, 2020
KitoTech Medical has been named one of the 50 Leading Companies of 2020 by the major publication The Silicon Review. KitoTech's selection was based on an evaluation of companies in a broad range of sectors, including healthcare, information technology, clean energy, and others. KitoTech received the honor for the development and commercialization of microMend®, its wound closure product that is an attractive alternative to sutures.
microMend consists of an array of high tech Microstaples attached to an adhesive backing that achieves similar holding strength to sutures with painless and easy application like a bandage. microMend is a cost-effective, time saving, and easy-to-use option for closing lacerations, skin tears, surgical incisions, and other wounds. The device's effectiveness has been demonstrated in multiple clinical studies. It is now being sold into acute and non-acute care markets in hospitals and clinics throughout the United States. KitoTech recently introduced a consumer version of microMend for closing lacerations in response to increased demand for people to treat wounds safely themselves and avoid trips to ERs and urgent care clinics.
KitoTech Medical's President and CEO, Ron Berenson, MD, commented, "We are honored by this recognition, which is a tribute to our dedicated team as well as our many collaborators. microMend devices are widely used in healthcare settings, and we are excited about introducing our products into the OTC market. Our selection by The Silicon Review confirms our success to date, and we look forward to expanding the uses of microMend as well as developing new and innovative products based on our Microstaple Technology in the future."
About KitoTech Medical
KitoTech Medical, Inc. is a Seattle-based medical device company that spun out of the University of Washington and continues to develop and commercialize products for wound closure and wound care. More information about microMend and KitoTech Medical can be found online at http://www.kitotechmedical.com.