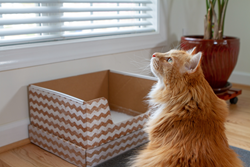 WOOSTER, Ohio (PRWEB) February 14, 2020
Kitty Poo Club, the all-in-one subscription litter service, announced today key initiatives it will be launching in the New Year. After recording exponential growth since its inception two years ago, investing in these changes and additions will ensure the company continues to meet the needs of its current customers, while standing ready to welcome more of the 38 million households with cats in the United States who could benefit from its services.
Kitty Poo Club will be expanding its reach by heavily investing in growth. The company rang in the new year by unveiling an updated web site featuring increased product offerings. In addition, Kitty Poo Club moved into a larger, state-of-the-art facility and will be launching its first national broadcast advertising campaign.
"The cat litter industry is a multibillion-dollar industry with more than 90 million pet cats in the United States alone," Chad Kauffman, Owner and CEO explained. "That's why Kitty Poo Club has seen over 3000% growth over the last 18 months of doing business – and today we are doing 8 figures in revenue. We are committed to giving our loyal customers additional products and services to make life with their cat even more purrfect, while reaching out to the many cat owners who haven't yet discovered the life-changing convenience of Kitty Poo Club."
UPDATED WEB SITE:
From the time it launched in October 2017, http://www.kittypooclub.com gave cat owners an easy way to become Kitty Poo Club members, and set up monthly delivery of as many litter boxes and as much litter as needed, depending on the number of cats in the home. Today, Kitty Poo Club subscribers can choose from a variety of cat treats from Tiki Pets, Primal or Stella & Chewy's, and food from Blue Buffalo, Fromm, or Acana - - all trusted brands for pet owners nationwide. The added product offerings continue to make cat ownership even easier by providing a one-stop shop for selecting and ordering kitty necessities and having them all delivered.
The updated http://www.kittypooclub.com also makes navigation a breeze. Newcomers can begin by visiting "How it Works" to learn how they can set up and enhance their monthly subscription. And because Kauffman knows that his customers spread the word about how easy and effective Kitty Poo Club litter and boxes are, they have added a rewards system to the site.
"We've learned that cat owners are not only loyal to their fur babies, they are loyal to their brands," explained Kauffman. "To truly publicize how easy it can be to have a litter box system that has no odor,
requires far less cleaning and arrives at your doorstep, we knew we had to encourage our customers to continue spreading the word and sharing the love. Our rewards system does just that by giving our loyal fans incentives in the form of web site savings."
LARGER, STATE-OF-THE-ART FACILITY
To accommodate the ever-growing customer base of Kitty Poo Club, Kauffman recently moved the company from its start-up facility, which was a small warehouse built in the 1940s, into a modern 120,000 square foot space featuring the latest in manufacturing equipment. The new facility will easily support the warehousing, production, packaging and shipping operations of Kitty Poo Club today and as it expands.
NATIONAL ADVERTISING CAMPAIGN
To date, Kitty Poo Club has relied solely on small-scale social media advertising, which proved to be incredibly successful. In just two years, the company has over 36,000 loyal and happy customers. Now, as they gear up to truly take the multibillion-dollar cat litter industry by storm, Kauffman is excited to embark upon an ambitious and targeted national advertising campaign.
The campaign will begin with 2-minute commercials that focus on how Kitty Poo Club is the solution to very real cat litter problems by highlighting customer testimonials. For the ad campaign, Kitty Poo Club has partnered with Santa Ana, California-based Script to Screen, a leader in the direct response television market. The first step of the campaign following filming and editing the spots, will be to run test ads to ensure Kitty Poo Club finds exactly the right networks and times that hit their target demographic.
"When we started Kitty Poo Club, my father and I knew we had something special," Kauffman shared. "Now we have perfected our litter boxes, added extra products to our easy-to-use web site, upgraded our manufacturing space, and we are ready and excited to offer up our all-in-one subscription service and product to the masses."
About Kitty Poo Club
Kitty Poo Club is a Wooster, OH based all-in-one cat litter subscription company founded by entrepreneurial father son team Porter and Chad Kauffman. They created Kitty Poo Club because cat owners were desperate for a way to improve and facilitate cat ownership. Before Kitty Poo Club, cat litter management entailed driving to the store, carrying heavy bags of litter, and chiseling/scraping/hosing plastic litter boxes each month. With Kitty Poo Club, customers can choose from odor-free fine grain silica, regular silica, organic or clay litters and they receive a waterproof box made from 100% recycled content that can get tossed/recycled when the new supplies arrive at their doorsteps each month. New for 2020, customers can also order their cats' favorite food and treats to be delivered as part of their subscription as an added convenience. For more information or to become a Kitty Poo Club subscriber, visit http://www.kittypooclub.com.
# # #