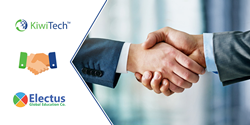 We are pleased to join hands with KiwiTech and believe this partnership will prove to be invaluable given KiwiTech's track record of technology services and fundraising
SAN FRANCISCO (PRWEB) September 09, 2020
KiwiTech, LLC, a tech startup accelerator that helps early to late-stage companies scale quickly, today announced a strategic partnership with Electus Global Education Co., a Tampa-based developer, and manufacturer of youth financial and entrepreneurship education technology.
"We are excited to partner with an industry innovator in youth financial and entrepreneurship education," said Rakesh Gupta, Co-Founder & CEO of KiwiTech. "At the time of a global pandemic, we are drawing on our deep tech expertise to help Electus Global Education further its mission of revolutionizing how children learn financial, entrepreneurship, and life management skills."
"Our flagship technology and the cornerstone to the Electus technology is 'The Life Hub System,' said John Seib, Co-Founder & President of Electus Global Education. "It's an elegantly designed home-based multimedia system that inspires and robustly engages children aged 3 to 14 to learn personal finance, money management and entrepreneurship skills by managing real monetary assets on a daily and consistent basis which is critical for effective and lasting outcomes."
"We are pleased to join hands with KiwiTech and believe this partnership will prove to be invaluable given KiwiTech's track record of technology services and fundraising," added John.
About Electus Global Education
Electus Global Education Co. is a leading innovator, developer, and manufacturer of youth financial and entrepreneurship education technology. Its patented technology revolutionizes the way millions of children around the world learn financial and entrepreneurship skills. The Company's product line includes; The Life Hub® Learning Center, Life Hub™ mobile application, and Hi System (for School Systems). For more information, visit https://lifehublearningcenter.com/
About KiwiTech
Over the last decade, KiwiTech has led innovation across multiple verticals scaling businesses in the tech space. KiwiTech intimately understands the challenges faced by new founders, aspiring unicorns, and established leaders and works closely with them to realize their passion and purpose. Through its extensive relationships and expertise, KiwiTech brings a perspective that helps strategically connect technology creators with technology consumers. KiwiTech is an ecosystem of proactive investors and advisors who are passionate about building technology, supporting entrepreneurship, and helping companies realize their maximum potential. For more information, visit https://www.kiwitech.com/