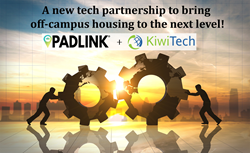 We look forward to working with them and co-building a cutting-edge platform to help further their mission
NEW YORK (PRWEB) September 20, 2018
KiwiTech, LLC, a startup accelerator and technology services company, today announced a strategic partnership agreement with PadLink, an online platform that aims to make it more seamless to manage the entire off-campus housing process.
"We are excited to partner with PadLink to empower students, landlords and universities with a safe, easy-to-use and reliable off-campus housing platform," said Rakesh Gupta, CEO, KiwiTech. "We look forward to working with them and co-building a cutting-edge platform to help further their mission."
"PadLink helps provide more security and resources to students who are looking for, or already in, housing off-campus. In addition, we make it easier for landlords to organize all of their information for one, or multiple Pads online through a simple to use platform. Finally, the university portal which PadLink has developed provides insight for administrators to know more about the market," said Andrew Marks, Co-Founder, and CEO of PadLink.
"We are very excited about these next stages with KiwiTech and view them as a strategic long-term partner that will help bring PadLink to market at many universities across the United States."
About PadLink
PadLink is an online platform that aims to make it more seamless to manage the entire off-campus housing process. Each user has its own dashboard that has been customized. PadLink's focus on safety and ease of use makes it unique in the industry and it will be developing more initiatives to continue providing more security to this market. PadLink's mission is to build an off-campus housing platform that is safe for students, easy for landlords, and reliable for universities. To learn more, please visit https://padlink.com/
About KiwiTech
KiwiTech provides end-to-end digital technology solutions across a wide range of industries, including publishing, healthcare, media & entertainment, education, financial services, energy and nonprofit & government. KiwiTech has quickly gained recognition as an innovator by investing in numerous early-stage startups and partnering with large enterprises. Drawing on its deep expertise across mobile and web technologies, KiwiTech enables companies to create groundbreaking digital experiences. KiwiTech is based in Washington DC, with additional offices in New York and New Delhi. To learn more, visit: http://www.kiwitech.com