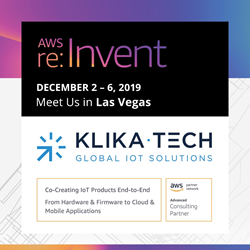 MIAMI (PRWEB) November 26, 2019
Klika Tech, an Advanced Consulting Partner in the Amazon Web Services (AWS) Partner Network (APN), has earned three new AWS Service Delivery designations based on technical proficiency and proven success developing Internet-of-Things (IoT) and cloud solutions.
The new AWS Service Delivery Program designations recognize Klika Tech's experience developing applications using Amazon API Gateway, AWS CloudFormation and AWS Lambda, which combined with AWS IoT Core differentiate Klika Tech as APN member with specialized demonstrated technical proficiency and proven customer success in delivering IoT, serverless and big data solutions.
Klika Tech develops IoT and cloud products and solutions for customers across North America, Europe and APAC. In 2018 the company was elevated to APN Advanced Consulting Partner and was a participating APN Partner for the launch of the AWS IoT Core Service Delivery program. Klika Tech's AWS recognitions now include:

Amazon API Gateway Service Delivery for providing tools and services to help customers create, publish, maintain, monitor, and secure their APIs at any scale.
AWS CloudFormation Service Delivery for helping developers and system administrators create and manage AWS resources for provisioning, and updating them in an orderly and predictable fashion.
AWS Lambda Service Delivery for providing customers services and tools to build or migrate solutions to a serverless computing architecture and building applications without the need for provisioning or managing servers.
The AWS Service Delivery designations identify and endorse several Klika Tech applications and differentiate the company for its AWS knowledge and experience. Projects include integration of hardware, software and AWS cloud services to develop numerous IoT and IIoT platforms.
In addition to AWS Service Delivery designations, Klika Tech's team has received more than 100 AWS accreditations and certifications across a number of AWS services including Technical Certifications at the Associate, Professional, and Specialty levels.
See Klika Tech's portfolio of IoT and cloud development case studies for more examples of co-created consumer and commercial solutions and Klika Tech's IoT and Cloud Solutions for AWS page, and listing in the AWS Partner Solutions Finder.
Klika Tech will be participating with Amazon at the AWS flagship event, re:Invent 2019, in Las Vegas, Nevada December 2-6, 2019. For details, connect with Klika Tech on LinkedIn.
About Klika Tech
Klika Tech is a global Internet of Things (IoT) and Cloud product and solutions Development Company headquartered in the U.S. with development and management locations across Europe and North America. Founded in 2013 by business-oriented technologists, Klika Tech co-creates end-2-end hardware, embedded, and software solutions for wearables, smart home/building/city platforms, connected healthcare, smart retail, connected agriculture, asset tracking, automotive, smart mobility, and cloud IoT hub integrations. Klika Tech is an AWS Partner Network Advanced Consulting Partner and AWS Service Delivery Partner for AWS IoT Core Services. For more information, visit http://www.klika-tech.com