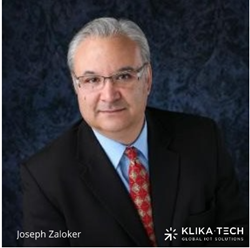 Joseph Zaloker brings Klika Tech his unique ability to drive results-oriented digital transformation, and he will be an integral part of how we continue helping our customers and partners' grow in new markets
MIAMI (PRWEB) March 26, 2021
Klika Tech today announced Joseph Zaloker, has joined the company as Head of Global Alliances and Enterprise Accounts, responsible for driving the global expansion of customers, partners, and portfolio of Internet of Things and Cloud innovation.
Based in the U.S., Joseph will focus on building strategic relationships with key partners as well as driving the expansion of the global customer base. He will focus on differentiating the company's expertise in developing business-oriented solutions to complex business challenges as well as the strategic growth and innovation as Klika Tech continues to expand into new regional markets and customer verticals.
Prior to joining Klika Tech, Joseph was North American IoT Segment Leader at Amazon Web Services (AWS) where he was responsible for building and managing a robust ecosystem of partners and programs to help drive AWS IoT services adoption and help customers with their digital transformation projects. Prior to AWS Joseph was the Director of Technical Marketing at Arrow where he established and drove Arrow's Machine-to-Machine and Internet of Things business strategy.
"Joseph brings extensive experience in engineering, marketing and sales with proven leadership of diverse and high-performing global teams and organizations," said Gennadiy Borisov, Klika Tech President and CO-CEO. "Joseph brings Klika Tech his unique ability to drive results-oriented digital transformation, and he will be an integral part of how we continue helping our customers and partners' grow in new markets."
Joseph joins Klika Tech during a period of significant growth, and his appointment was preceded by the recent additions of Manolo Morales as Head of Business Development, Americas, and Ralf Kolb as Head of Business Development, for the DACH region. Each of these new positions support Klika Tech's work with technology partners, customers, and its global engineering teams that are driving innovative and successful IoT deployments.
Klika Tech is a global IoT and Cloud-native product and solutions development company headquartered in the U.S. with operations and offices across North America, Europe and Asia. Founded in 2013 by business-oriented technologists, the company co-creates end-to-end hardware, embedded, and cloud solutions for industries and applications including smart home, building, and city platforms, connected healthcare, retail, and agriculture, and asset tracking and logistics, automotive, smart mobility, and edge to cloud integrations. Klika Tech is an Amazon Web Services (AWS) Advanced Consulting and IoT Competency Partner and is differentiated by AWS for achieving Service Delivery Partner status for AWS IoT Core Services, Amazon API Gateway, AWS CloudFormation and AWS Lambda.