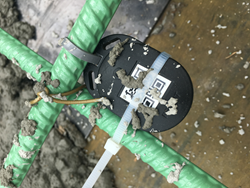 "Working with our partners, we're accelerating development of smart connections between devices, edge and cloud networks, and people," said Gennadiy M. Borisov
NEW YORK (PRWEB) November 27, 2018
Leading IoT product and solutions development company Klika Tech will join aicas, a leading producer of Java-based software for analysis, runtime and real-time embedded systems, to demonstrate their latest industrial IoT collaborations at SPS IPC Drives 2018.
The companies' featured demonstration will be a smart building innovation developed by Concrete Sensors to give the construction industry a sensor-based tool for the unique real-time and historical analysis of the strength, temperature and relative humidity of drying concrete.
During the 29th annual event as an example of advanced, smart industrial technologies, the companies will showcase how aicas' Jamaica-IoT software application was used as a bridge between industrial wireless sensors and AWS cloud. The sensors were developed to be placed into poured concrete and coupled with mobile application and Amazon cloud to give contractors the power to view data by project, floor or individual sensor.
Klika Tech additionally will demonstrate commercial, flexible-edge computing solutions developed in collaboration with Rigado using their Cascade-500 IoT Gateway. The companies collaborate to develop hardware and software solutions for commercial operations such as retail, hospitals or warehousing facilities, where robust containerized applications running on an optimized hardware platform provides advanced wireless device connectivity options.
"SPS IPC Drive is the perfect environment for us to showcase the advanced IoT products we've co-created with our partners and the acceleration of smart connections between devices, edge and cloud networks and people," said Gennadiy M. Borisov, President & COO of Klika Tech.
Klika Tech this year forged a partnership with aicas to develop the solutions that enhance seamless integrations between aicas' Jamaica-IoT Framework and cloud platforms AWS and Microsoft Azure, specifically focusing on security and performance in data transmission.
"SPS IPC Drives invites discovery of the smarter, more efficient technologies that are advancing Industry 4.0 today," said Johannes M. Biermann, General Manager for aicas. "This is the optimal venue to show companies from across the globe how together with Klika Tech we can turn their IoT concepts into market ready products."
The companies are exhibiting at Stand 130 within Hall 6 at the Exhibition Centre Nuremberg, in Nuremberg Germany, from November 27-29.