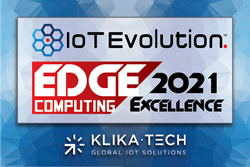 Klika-Tech demonstrated how to build scalable fleets of intelligent-edge devices
MIAMI (PRWEB) October 26, 2021
Klika Tech announced today that its platform for integrating STMicroelectronics hardware and Amazon Web Services (AWS) to deploy Machine Learning (ML) for anomaly detection in industrial processes has received a 2021 IoT Edge Computing Excellence Award from IoT Evolution World.
The Industrial IoT (IIoT) solution was recognized for the innovation enabling ML to be deployed at the equipment level as an embedded IoT device solution for industrial equipment monitoring and faster discovery of potential equipment failures. The platform enables customers to train ML models to identify specific anomalies within massive amounts of data without the latency of conventional ML systems that shift data to the cloud for analysis.
"Unplanned downtime is a constant concern in industrial environments," said Gennadiy M Borisov, President and Co-CEO of Klika Tech. "We're honored to be recognized for our ongoing work collaborating with technology leaders to help our customers avoid unforeseen issues, lower operating costs and increase productivity."
The platform was co-developed by Klika Tech, STMicroelectronics, and AWS to simplify how customers bring intelligence to edge devices, particularly to improve the way data is used for anomaly detection. The platform enables customers to deploy and manage fleets of device with remote software configuration at scale. STMicroelectronics' P-NUCLEO-WB55 ultra-low-power devices are featured to enable equipment-level monitoring for changes in vibration, volume, temperature, humidity, and other anomalies that impact industrial equipment such as motors, gearboxes, fans, or pumps.
"By leveraging Amazon SageMaker, AWS IoT Greengrass ML capability on STMicroelectronics STM32MP1 gateways, and FreeRTOS on the STM32WB end-nodes, Klika-Tech demonstrated how to build scalable fleets of intelligent-edge devices," said Anton Shmagin, Partner Solutions Architect at AWS. "Customers have a complete blueprint for data ingest, training and optimizing ML models using Amazon SageMaker and SageMaker Neo, deploying models to gateways, running ML inference, and can use literally any set of sensors, not just camera feeds."
The annual IoT Edge Computing Excellence Awards recognizes leaders in the growing edge computing space. Selected companies are chosen based on proven advancements in IoT deployments that bring real-time computing, data availability, analytics, AI and machine learning to edge devices.
"The solutions selected for the IoT Evolution Edge Computing Excellence Award reflect the innovation driving the fast-growing Internet of Things marketplace. It is my honor to congratulate Klika Tech for their innovative work and contribution to this rapidly evolving industry," said Ken Briodagh, Editorial Director, IoT Evolution.
About Klika Tech
Klika Tech is an IoT & cloud product and solutions development company headquartered in the U.S. with locations across North America, Europe and Asia. Founded in 2013 Klika Tech co-creates end-to-end hardware, embedded, and software solutions for consumer, commercial and industrial applications including wearables, smart home/building/city platforms, connected healthcare, smart retail, connected agriculture, asset tracking, automotive, smart mobility, and cloud IoT hub integrations. Klika Tech is an AWS IoT Competency and an Advanced Consulting Partner in the AWS Partner Network with Service Delivery Designations for AWS IoT Core, Amazon API Gateway, AWS CloudFormation, and AWS Lambda.
For more information, email: contact@klika-tech.com
About Crossfire Media
Crossfire Media, co-publishers of IoT Evolution, is an integrated marketing company with a core focus on future trends in technology. We service communities of interest with conferences, tradeshows, webinars and newsletters. Crossfire Media has a partnership with Technology Marketing Corporation (TMC) to produce events and websites related to disruptive technologies. Crossfire Media is a division of Crossfire Consulting, a full service Information Technology company based in New York.