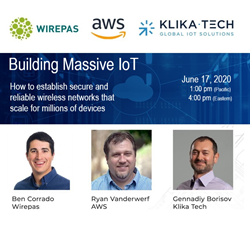 PORTLAND, Ore., AUSTIN, Texas, and MIAMI (PRWEB) May 29, 2020
Klika Tech President and Co-CEO Gennadiy Borisov, Ben Corrado, Head of U.S. for Wirepas, and Ryan Vanderwerf, Amazon Partner Solutions Architect, will host the webinar "How to Build Massive IoT," on June 17, 2020.
See the How to Build Massive IoT registration page to reserve a spot for the 1:00 pm (Pacific) 4:00 PM (Eastern) event.
Finding the steps to move from Proof of Concept for IoT projects to market-ready massively scalable products can be challenging. Establishing secure and reliable wireless connectivity among networks of millions of devices can be hampered by noisy environments, device power-consumption, large volumes of data, and more.
The event will showcase use cases with the steps companies are taking to move from development kit to rapid deployment. To preview the architectures for deploying massive IoT that will be highlighted during the event, download the Klika Tech case study featuring Amazon Web Services (AWS) and Wirepas technologies, "IoT Solutions for Asset Tracking" at https://klika-tech.com/portfolio/case_study_wirepas.
The presenters will discuss the roadmaps businesses are following to deliver scalable IoT architectures to support large numbers of devices and data collection while focusing on ROI. Learn how edge IoT gateways, Wirepas Mesh networking, and AWS cloud are packaged for rapid development and effective deployment.
The event will feature a Q&A / Ask Me Anything session and attendees are encouraged to explore:

How to implement off-the-shelf development kits for custom results
Discover the hardware, software and cloud services behind case studies of IoT success
How to plan for scale, reliability and ROI
Klika Tech is an AWS IoT Competency Partner and an Advanced Consulting Partner in the AWS Partner Network with Service Delivery Designations for AWS IoT Core Services, Amazon API Gateway, AWS CloudFormation, and AWS Lambda.
About the Presenters
Gennadiy Borisov leads Klika Tech's global business and strategic co-creation of innovative hardware, firmware and cloud solutions to deliver best-in-class IoT products for customers. With more than 25 years' experience in management, operations, sales, and product development, he oversees Klika Tech's growth as an AWS IoT Competency Partner and APN Advanced Consulting Partner, and collaborates with customers to design, architect, build, migrate, and manage applications on AWS.
Ben Corrado oversees development of Wirepas' partner and ecosystem network ensuring mutual success deploying Wirepas Mesh into products. Ben was previously CEO and co-founder at Rigado, providing wireless consulting services, developing wireless modules, and IoT edge-as-a-service gateways.
Ryan Vanderwerf is a Partner Solutions Architect at Amazon Web Services. He previously provided JVM focused consulting and project development as a software engineer at OCI on the Grails and Micronaut team. He and was Chief Architect/Director of Products at ReachForce with a focus on software and system architecture for AWS Cloud SaaS solutions for marketing data management. Ryan has built several SaaS solutions in several domains such as financial, media, telecom, and e-learning companies since 1996.
For additional details, contact Joe McGurk, Head of Corporate Communications, Klika Tech at jtmcgurk@klika-tech.com.