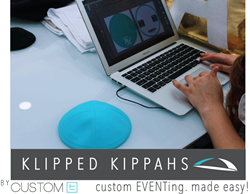 "I sincerely hope that you enjoy the many benefits of our virtual-studio sessions."
DAVIE, Fla. (PRWEB) September 10, 2020
Klipped Kippahs, a leading kippah retailer known for the invention of the kippah with built-in "klips" along with rush orders, creativity and various custom orders, has recently announced the option for 40-minute virtual studio design sessions for all customers.
Amid COVID-19, virtual studio sessions provide free private meetings with expert designers.
By booking a free 40-minute online session with one of Klipped Kippahs' experienced and talented designers, customers can watch their kippahs designed in real-time on their computer screens, tablets or smartphones.
These virtual design sessions are ideal for those working from home, located in other parts of the world, or affected by COVID-19.
Once a session is booked, samples of materials can be mailed upon request.
"I sincerely hope that you enjoy the many benefits of our virtual-studio sessions," said Jon Kaweblum, President and Founder of Klipped Kippahs.
Virtual sessions can be easily booked online via our website, which allows customers to select a date and time that fits their schedules.
About Klipped Kippahs:
Klipped Kippahs makes custom EVENTing easy. We offer dozens of custom kippah options, with or without the "klip" that you can either design yourself online or call one of our expert representatives to help you through the process.
For more information on our products and services, please visit http://www.klippedkippahs.com or call 954-228-3518.