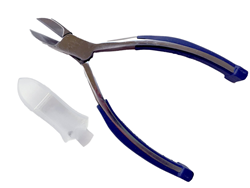 This toenail clipper is great. It's very durable and well made. It has grippers on the handles so they don't slip and comes with a protective cover for the sharp part. These are very sharp and have a perfect angle for ingrown toenails.
Cary, North Carolina (PRWEB) June 05, 2016
Whole Health Supply, LLC is announcing its pleasure on the five star reviews on the new KP-900N toenail clipper. This nipper is expressly designed for those who have tough, thick nails who may depend on a podiatrist just to get their nails cut. This is a problem that is experienced by many pregnant women, diabetics, the elderly and those with ingrown toenails and/or fungus. It is also an excellent device for those with larger toes that have broader toenails.
To accomplish the goals the KP-900N the top of blades are slightly curved to contour around nails and the actual blade is one-inch long. The jaw opening is 1cm wide. The grip was made to be ergonomic and easy for those with hand issues like arthritis. The handle has soft grip rubber for comfort when pressing which usually would be a daunting task with 5 5/16" handle. This means that the super-long handles are more efficient and easy to use for people with larger hands that might have difficulty handling a smaller appliance. It is also much easier for those that may struggle with gripping.
The KlipPro Toenail Clipper/Nipper is made from premium quality brushed stainless steel. Simply wipe the clippers with alcohol after use, let it dry and store for next use. It includes secure plastic tip covers for the blades to keep the clippers hygienic and clean while in storage. The tip cover is locked in position so it does not fall off.
All KlipPro products are backed by satisfaction guarantee or your money back.
The company knows that the proof of the quality of their products is in the write-ups and reviews they receive from actual customers. One wrote, "My husband had a nasty ingrown toenail and refused to go to the doctor. It was horrible. The toe was red, swollen and had a chunk of meat that looked like it didn't belong there. Regular toenail clippers would not work so he kept asking me to get him a scalpel which is crazy. After about a month of him refusing to go to the doctor, I compromised and got him these. These are the perfect, safe alternative to a scalpel. Within 2 minutes he had the ingrown toenail out. By the next morning his toe was feeling a little better. Within 3 days, it no longer bothers him. This toenail clipper is great. It's very durable and well made. It has grippers on the handles so they don't slip and comes with a protective cover for the sharp part. These are very sharp and have a perfect angle for ingrown toenails. I was really surprised at how easily he was able to get the toenail out."
Another customer recently wrote, "These are nicely made and are sharp enough to actually cut nails. They are a little larger than other clippers I have seen in the past. They have a good grip on them. They are curved to fit the toes nail. There is a safety cap on the them to protect the tip and prevent an accidents grabbing them. I got these for my mom since she has diabetes. I thought they would work for her, since diabetic's nails become like steel themselves. It has made it easier to cut her nails."
For additional information please visit http://www.amazon.com/dp/B018R9VIU6