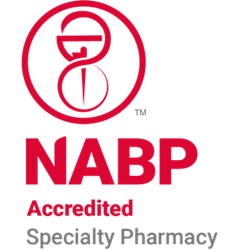 By earning Specialty Pharmacy Accreditation, they demonstrate their commitment to quality health care and patient safety, that improve overall health outcomes.
OAKBROOK TERRACE, Ill. (PRWEB) October 07, 2020
KloudScript initially underwent Specialty Accreditation in 2016 with its joint accreditation model. The company this past year chose to seek Specialty Pharmacy Accreditation with NABP because of their longstanding history and impeccable reputation.
KloudScript Founder & CEO, Rinku Patel, PharmD, RPh, expressed, "We are honored to achieve NABP Specialty Pharmacy Accreditation. This designation provides our customers and their patient's validation that our processes, policies, and patient care management system meet patient care standards to attain a high level of care."
KloudScript and our partners diligently work each day to ensure that specialty patients can access their medications from local community pharmacists they know and trust. KloudScript also offers pharmacy accreditation program management solutions to help pharmacies navigate the process of specialty accreditation.
NABP's Specialty Pharmacy Accreditation signifies to patients, payers, and providers that the pharmacy organization is recognized for providing an advanced level of pharmacy services and disease management for patients taking medications that require special handling, storage, and distribution requirements. Specialty pharmacies coordinate patient education, promote adherence, and ensure appropriate medication use. This voluntary accreditation process required KloudScript to demonstrate compliance with a comprehensive set of practice standards and evaluated the pharmacy on practice management, patient care services, and quality improvement.
"NABP congratulates KloudScript, Inc. on achieving this important recognition," says NABP Executive Director/Secretary Lemrey "Al" Carter, PharmD, MS, RPh. "By earning Specialty Pharmacy Accreditation, they demonstrate their commitment to quality health care and patient safety, that improve overall health outcomes."
About KloudScript, Inc.
Headquartered in Oakbrook Terrace, Illinois, KloudScript™, Inc is a digital health network focused on providing technology and support services for specialty medications. KloudScript partners with community pharmacies, prescribers, pharmaceutical manufacturers, and payors to make specialty medications available locally for patients through a simplified care experience from their pharmacist. KloudScript's innovative technology platforms KETU™ and ProntoRx™ offer pharmacies and prescribers an efficient patient care management workflow solution and simplify patient care. Learn more about KloudScript's growing network at http://www.kloudscript.com or call (855) 202-7036.
About the National Association of Boards of Pharmacy
The National Association of Boards of Pharmacy (NABP®) is the impartial professional organization that supports its member regulatory state boards of pharmacy in creating uniform regulations to protect public health. Founded in 1904, NABP aims to ensure the public's health and safety through its pharmacist competence assessment programs, license transfer and verification services, as well as through pharmacy inspection and accreditation programs. For more information, please visit http://www.nabp.pharmacy.