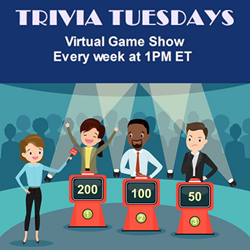 KMxLive is the only technology that can automatically produce an interactive eLearning course that provides on-demand users with the same experience as the live webinar participants.
BALTIMORE (PRWEB) April 05, 2021
Experience the Future of Immersive Learning with KMxLive and KMxGames!
KMxLive provides the ability to deliver measurable interactive learning content to participants, including games, simulations, exams, competitions and eLearning lessons. KMxLive provides moderators with a dashboard to control the learning experience and track the progress of online participants.
KMxGames enables clients to deliver existing exams, test items and quizzes as interactive games; either as a stand-alone eLearning lesson or as competitions in a virtual environment with KMxLive. KMxGames supports all popular languages and leverages KMSI's exclusive language pack technology.
Our Game Show Events:
Every Tuesday at 1:00 PM ET thru May 25, 2021 we will conduct a live virtual game show at our public learning portal, KMxDirect.com. Each weekly event will present a new topic hosted by a VIP guest moderator. New game interfaces are presented each week. Our game show events are scheduled to take 30 minutes.
To register for an upcoming event, visit https://www.kmsi.com/Trivia_Tuesdays.htm
About KMSI:
Knowledge Management Solutions, Inc. is a leading provider of innovative learning, performance and talent management solutions supporting millions of end-users at Fortune 2000 companies, associations and government agencies. KMSI's clients include many of the largest companies in the world, including retail chains, pharmaceuticals, manufacturers, technology companies, utilities, software companies, universities, insurance firms and financial institutions. Please visit http://www.kmsi.com to learn more.