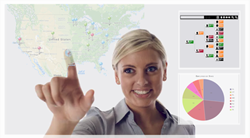 KMx is more capable and significantly less expensive than any competitive learning & talent management technology solution.
BALTIMORE (PRWEB) May 07, 2019
The ATD International Conference & Exposition is the largest, most comprehensive event for talent development professionals worldwide. It will provide you with the knowledge, strategies, and solutions you need to effectively train and develop talent. Please visit with KMSI in booth #2111.
KMx provides fully integrated eLearning development, learning content management, learning management, performance management, talent management, and virtual classroom technology in one easy to use solution. KMx is available as an installed software application or as a hosted service. The following is a summary of the new features available in KMx Version 11.
HTML5 Authoring Tools
KMx V10 added new HTML5 authoring tools for development of eLearning content and custom site pages. With KMx V11, we have extended the use of these tools for use in the development of exams, surveys and performance evaluations. The tools provide easy to learn templates for incorporation of graphics, audio, video and other media elements. The KMx V11 HTML5 tools include a new feature that enables the automatic display of personalized content based on a collection of variables, including user name, course/lesson progress and other data elements. We have also provided a series of new templates for use in developing highly personalized HTML5 emails.
Mobile and Browser Notifications
In addition to the already robust email notification and mail merge capabilities provided by KMx, we have added the ability to send mobile and browser notifications for any event, including supervisor assignments, enrollments, class reminders, and delinquencies. These notifications are highly personalized and configurable. The notifications support all mobile devices, contemporary browsers and application installation methods.
Exams, Surveys & Performance Evaluations
KMx already provides the most capable exam, survey and performance evaluation system available. In addition to the HTML5 update discussed above, we have added new drag & drop, matching and sequencing question variants. These new question types are supported by CSS styles that enable the client to further personalize and brand their delivery.
KMx User Control Panel
The KMx User Control Panel adapts to the currently logged-in user role(s). These roles include student, supervisor, instructor, and organizational entity (division, department, location, etc.) administrator. The control panel provides highly personalized displays of information, including reports, graphs, charts, social media feeds/widgets and user specific assignments. Our latest update enables the user to change and save the layout of their control panel, including moving, reorienting and resizing each control panel element.
Master Class, Resource and Activity Schedule
KMx V11 provides new HTML5 Gantt chart reporting tools that calculate and provide the display of classes, utilization of resources (instructors, classrooms, 3rd party conferencing tools, etc.) and other scheduled activities. This tool has been added to the Administrator Control Panel and can be adapted for personalization and display with the user, supervisor and instructor control panel roles.
eCommerce
In addition to supporting PayPal Payflow Pro, KMx v11 adds ecommerce support for the Authorize.net payment processing service and Avalara's AvaTax sales tax calculation and reporting service. By adding these industry leading partners, KMx provides customers with the flexibility to quickly and easily implement the eCommerce strategies they need to grow their business.
About KMSI
Knowledge Management Solutions, Inc. is a leading provider of innovative learning, performance and talent management solutions supporting millions of end-users at Fortune 2000 companies, associations and government agencies. KMSI's clients include many of the largest companies in the world, including retail chains, pharmaceuticals, manufacturers, technology companies, utilities, software companies, universities, insurance firms and financial institutions. Please visit http://www.kmsi.com to learn more.