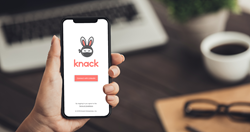 Knack for Engineers puts the power of web crawling and big data in the hands of engineers so they can take control of their future.
DALLAS (PRWEB) April 14, 2020
Knack, the job-finding platform that connects job-seekers with qualified employment opportunities, today announces its new mobile app, Knack for Engineers. The new app is free for job-seekers looking for engineering work and, in the age of COVID-19, it enables job-seekers to find qualified, remote, work-from-home options, from their cell phones. The app also includes geographic filters based on zip codes so job-seekers can find opportunities close-to-home.
"With so many people laid off and out of work right now because of COVID-19, we hope Knack will help affected engineers across the country find work that helps them keep their families safe and their lives meaningful," says Leroy Ware, CEO of Knack. "I know a lot of engineers who are incredibly talented, but have difficulty finding work when they need to. Most engineers just upload their resume to a couple of the big job boards and hope the right recruiter finds them. The traditional job search process leaves a lot of talented people out of work for large periods of time, or in roles that they don't truly love. Knack for Engineers puts the power of web crawling and big data in the hands of engineers so they can take control of their future. The app is like a recruiting assistant that actively searches for jobs on behalf of an engineer and presents opportunities perfectly matched to his or her skills and preferences."
How it Works
Knack for Engineers was specifically created to help designers, software developers, cloud architects, devops and infrastructure engineers, roboticists, data scientists and many other technical professionals find jobs. Once the app is installed, Knack users upload their resume and fill in a few additional professional details. Knack for Engineers then creates a personalized job feed that is updated every few hours. The jobs include thousands of full-time and part-time opportunities that are highly tailored to each engineer, both remote and onsite. Users can open the app to review job requests, and even apply to jobs and confirm interviews.
"Since launching the app, we've received a ton of positive feedback," says Mitch Corsini, Chief Operating Officer of Knack. "They've offered helpful suggestions and advice that has enabled us to build a platform catered to their needs. The reaction has been amazing and we're very excited to launch a product that can help so many people at such a critical time."
About the Founders
Knack was founded by software engineer Leroy Ware and technical recruiter Mitch Corsini after the two met in Silicon Valley and discovered their shared passion for engineering, technical staffing, and entrepreneurship. Leroy has worked with companies such as Apple, Mozilla, Cisco, Deloitte, has a degree in mathematics, and did graduate work in AI at Stanford. Mitch has a degree in psychology and has worked for some of the biggest names in staffing, including Robert Half and Allegis.
About Knack
Knack for Engineers is the ultimate job-finding platform for tech workers, aggregating jobs from recruiters, hiring managers, and job boards to present highly targeted employment opportunities to the people who are most qualified to take advantage of them. Knack for Engineers is a free app. Knack Enterprises Inc., the company behind Knack for Engineers, is also introducing a subscription-based applicant tracking system (ATS) in the following weeks that has been in testing for over six months. The Knack ATS will allow staffing firms and employers to post jobs into the Knack platform and get automated candidate recommendations based on their job listings. This will also further increase the number of jobs available to engineers in the Knack for Engineers mobile app.
To learn more about the Knack ATS, visit http://www.knack.io
For more information about Knack for Engineers, visit http://www.knackforengineers.com