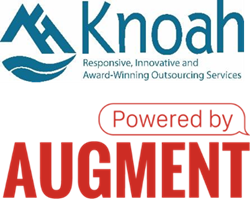 We are seeing a productivity improvement of over 15% with a corresponding increase in resolution and CSAT that has us expanding our use of the technology to other clients.
LAS VEGAS (PRWEB) October 29, 2018
Knoah Solutions, Inc., a global business process outsourcing company, in partnership with Augment, a leader in customer experience driven artificial intelligence, announced today that they have deployed an innovative, AI-based real-time recommendation engine that allows digital support (chat/SMS) agents to more quickly and effectively answer complex questions from customers.
"Digital agents in complex troubleshooting environments must juggle multiple transactions at the same time and can struggle to provide the right info in a timely fashion as they resolve customer issues," says Ralph Barletta, Knoah Solutions' executive vice president, and co-founder. "Augment has worked closely with Knoah to deploy a robust, self-learning solution that tightly integrates with our digital CRM tool, for one of our largest consumer electronics clients, where we have hundreds of agents handling thousands of digital transactions per day. We are seeing a productivity improvement of over 15% with a corresponding increase in resolution and CSAT that has us expanding our use of the technology to other clients."
Chatbots that aim to automate human conversations have struggled to deliver results in robust environments. Knoah's ChatHelper, powered by Augment, takes a different approach by utilizing AI for what it's good at: sifting through mountains of customer data. Human operators can then use their judgement to select from and personalize the best options based on understanding the customer's context and needs. Using the latest deep learning techniques, ChatHelper can quickly and easily build sophisticated knowledge bases from prior transactions. These transactions are designed to facilitate a dialogue by predicting customer questions and suggesting responses, so the live agent can keep the conversation fluid without spending time searching for an answer in a traditional knowledge base.
"Knoah uses the latest CX tools like LivePerson in their workforce which gives our deep learning algorithms the cloud data needed to build robust conversational models," says Matt Swanson, Augment's chief executive officer.
Results from implementing ChatHelper have been significant. In a controlled study, Knoah and Augment along with one of the world's largest electronics manufacturing companies compared outcomes from two groups of live chat agents, one that used the tool and one that did not. Chats per day were 15+% higher in the ChatHelper group. Agents with the tool handled communications almost one minute faster than agents working without it and had a 2.3% higher resolution rate.
"The Augment platform is able to identify the best practices from top-performing agents and make real-time suggestions to the rest of the workforce which ultimately delivers better outcomes to customers. Human-in-the-loop AI technology is not about separating chatbot and human conversations; it's about using AI to enable people to have better conversations and we are thrilled with the adoption we've seen at Knoah," continued Swanson.
About Knoah Solutions:
Regardless of your company's size or outsourcing needs, Knoah Solutions' agile, globally deployed BPO services deliver award-winning results that enhance your brand and fit your budget. Our RightENGAGE customer engagement model, OneKnoah process philosophy, and cutting-edge technology and analytics powered by our proprietary WFO tool, ARK360, ensure we can meet the needs and challenges of each of your customers through every channel: voice, chat, email, and social media. Knoah has the flexibility that big BPO companies can't provide and a global infrastructure and mature operational process that smaller BPO companies can't deliver on. Knoah's consultative and agile approach to outsourcing has repeatedly earned us awards and recognition from independent review bodies like Gartner, Everest Group, and IAOP. For more information about Knoah Solutions, visit http://www.knoah.com.
About Augment:
Augment is a leader in customer experience-driven artificial intelligence (AI). Augment's AI engine uniquely empowers brand representatives to deliver a superior customer experience by surfacing the best information and answers across the enterprise in real time. Augmented agents deliver improved brand experience through messaging and live chat applications preferred by consumers and then convert more of these interactions into customer delight and revenue. Augment powers Fortune 500 brands around the world. For more information, please visit http://www.augmenthq.com.