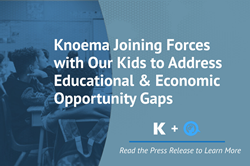 With Knoema, we're able to focus communities on what's possible because they can better identify and quantify the challenges as well as the channels through which other communities have addressed these same gaps. - Harry Wiland, Co-Founder of the Media Policy Center
AUSTIN, Texas (PRWEB) March 22, 2019
Knoema Joining Forces with Our Kids to Address Educational & Economic Opportunity Gaps
Data technology leader Knoema is collaborating with the Media Policy Center on a new initiative.
Data technology leader Knoema Corporation announced today a new collaboration with the Media Policy Center, producers of the upcoming Our Kids public television series and media initiative, to bring data to the forefront of community-driven efforts to create a more equitable society where every child receives a good education and the skill sets necessary to thrive, equitably.
Knoema's CEO, Bret Boyd, will be a featured speaker at the June 19-21, 2019, OUR KIDS SOLUTIONS FORUM event in Riverside, California, the first in a series of community-based Our Kids workshops. Knoema strives to make data accessible on a global scale and welcomes this opportunity to take data local to expose and support initiatives that address educational, economic, and community opportunity gaps.
Powered by Knoema's data visualization and distribution platform, Our Kids will become a pivot point for communities and their leaders, citizens, and students as well as media outlets who need access to-- and a sharing point for-- data to address the opportunity gap and monitor its change over time. It is hoped that the confluence of dynamic data illustrations will chart new strategies for solutions to be considered at the local and regional levels.
The public will have access to custom built dashboards that turn national, state, county, city, and even school-district level data into decision tools, discussion enablers, and proofs of concept around local initiatives. The data can support students who may take up a role in advocating for better systems; media outlets who wish to spotlight this burning national social issue; and administrators and planners who need reliable access to the best information available.
"With Knoema, we're able to focus communities on what's possible because they can better identify and quantify the challenges as well as the channels through which other communities have addressed these same gaps. Timely data that is well-structured, continuously updated, and easily visualized by any user, no training required, is a game changer in how we engage communities. We can walk into any city, any community, and quickly paint the picture of the education, poverty, health, and security in their community. That's meaningful," said Harry Wiland, a co-founder with Dale Bell, of the Media Policy Center, a strategic media production company focused on social justice issues.
Robert Putnam, Harvard professor and author of Our Kids: The American Dream in Crisis, paints a stark picture: "Today, students between the ages of 16-24 from low income families are seven times more likely to drop out of school than those who come from families with higher incomes. And, 31% of the American population cannot read above the 4th grade level. We have so much work to do as a country, and Knoema can help us engage communities in this critical work to bridge the educational gap."
The Our Kids 4-part public television series will begin airing nationally on April 7. A full schedule is available on the Our Kids web site. We believe the Our Kids series and national outreach together will provide the catalyst for change. The series and upcoming workshop events will spotlight the following communities:
Riverside, CA
Springfield, MO
Nashville, TN
Columbus, OH
Detroit, MI
Manchester, NH
Boston, MA
Seattle, WA
Duluth, MN
For more information, please contact:
Harry Wiland and Dale Bell
Media Policy Center
Harry(at)mediapolicycenter.org, Dale(at)mediapolicycenter.org
Bret Boyd
Knoema Corporation
bret(at)knoema.com
About Media Policy Center
The Media Policy Center is a 501(c)(3) not-for-profit organization founded in 2003 by producer/directors Harry Wiland and Dale Bell, whose individual projects have won an Academy Award (Woodstock), five Emmys, a Peabody, two Christopher Awards, and two Cine Golden Eagles, among numerous other accolades. MPC strives to inform, challenge, and ultimately engage a responsive citizenry and to encourage full and meaningful engagement across the political, social, and economic spectrum. MPC has been honored by the Ashoka Fellowship of entrepreneurs as the only business partnership among its 3,500 global members and the only professional media group. To learn more, please visit http://www.ourkidsseries.org.
About Knoema Corporation
Knoema has empowered companies, financial institutions, governments, and researchers across the globe, and we're proud to be a trusted, transparent source in an increasingly complex digital world. We enable the strategic use of data for our clients by drawing from our wealth of experience in providing mission-critical data services on hundreds of enterprise projects—ranging from demand forecasting for multiple Fortune 500 companies to supporting global data standards with the IMF. To learn more, please visit http://www.Knoema.com.