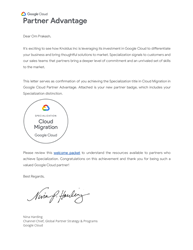 "The commitment we make to making sure we are a leader in Google Cloud technologies helps our clients achieve even greater success along their journeys toward modernization, and we look forward to further interesting work in these domains."
MISSISSAUGA, Ontario (PRWEB) January 17, 2023
Through Google Cloud solutions, Knoldus has worked with hundreds of enterprises to help them succeed as they undergo digital transformation. Our evolving approach to cloud migration has been essential in meeting the demands of clients with digitized needs.
Google Cloud Specialization is the highest technical designation that Google confers upon its partners. The designation indicates that the partner consistently outperforms in customer success and possesses a strong technological foundation, as determined by Google and an impartial third-party assessor. The success has demonstrated our unwavering strength in the area. On-premises data migration, private cloud migration, or migration from another public cloud to Google Cloud—we are sure to offer our clients the best service and most efficient options.
Cloud Migration Specialization covers:

Professional competency, from problem identification and assessment for current technical workloads and data, solution design to execution, and service level agreement (SLA) in the cloud migration process.
Security and reliability, including security policies, secure access services, and data encryptions.
Monitor and control the transition process and performance.
Optimization, customer satisfaction, and subsequent pain point remediation.
"Earning the Google Cloud Specialization is a testament to our team's commitment to excellence and their deep expertise in leveraging Google Cloud technologies. This recognition will allow us to better serve our clients and partners and continue to drive innovation in the industry." said Vikas Hazrati, CEO of Knoldus.
As a Google Cloud Partner and member of the Google Cloud Partner Advantage Program, Knoldus offers end-to-end transformation services, including cloud assessment, hybrid, and multi-cloud platform design, migration, app development, modernization, and managed services, including observability, SRE/DevSecOps/NoOps, and FinOps activities.