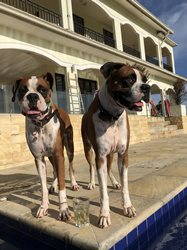 "Many countries often change quarantine rules for imported pets. The best way to avoid unnecessary quarantine and delays for any pet relocation is to work with an expert pet transportation service such as Air Animal Pet Movers."--Walter M. Woolf, VMD Air Animal Founder and Veterinarian
TAMPA, Fla. (PRWEB) November 07, 2019
"No quarantine for pets entering the UK." Sounds fantastic, yet there is a myriad of details to attend to before Fido, the kitty, or the ferret, are ready to leave for their flight to the United Kingdom. Air Animal warns that many countries often change rules. Pet import rules for the UK may change during and after Brexit. The best way to avoid unnecessary quarantine and delays for pet relocation is to work with an expert pet transportation service such as Air Animal Pet Movers. They know the airlines to use and the rules about moving pets anywhere in the world.
The most challenging locations are islands and island countries because most do not have rabies in their animal populations. For example, moving a pet to Australia requires a six-month lead time along with a very specific veterinary protocol. There is a 10-day quarantine after arrival in Melbourne, Australia.
Veterinarians agree that pets handle the various quarantine periods with surprisingly good outcomes—probably because they do not have a sense of time. Dedicated animal care professionals at the various quarantine stations around the world take their jobs seriously and care for pets in a proper, conscientious, responsible and professional manner. Pet owners are required to pay fees to the facility for quarantine services. Sorry, no visiting during quarantine.
The attached table details common destinations, the length of quarantine and preparation timelines as of November 2019.
When contacting a pet transportation company, ask if they have an international pet health certificate program which makes it simple for local veterinarians to certify their relocating patients. Ask if they offer VIP door-to-door service and other service levels such as custom travel kennels that meet family relocation budgets. Learn more from "Eight Steps for Choosing a Pet Mover" from the Air Animal Pet Movers YouTube channel. The channel contains lots of helpful information about moving pets. Subscribers receive updates about new videos.
Moving is stressful enough. Pet Moving Made Easy® is our focus, our passion and our promise.
About Air Animal
Air Animal has helped more than 50,000 families move their 100,000 furry, feathered and scaly pets around the globe since 1977. They welcome referrals from major corporations, relocation management agencies, household goods movers, families, U.S. military and government transferees. Get the best in animal care and transportation. Air Animal is an appointed and endorsed IATA air cargo sales agency working with all airlines that move animals. They are an Indirect Air Carrier cleared for tendering live animals to airlines by the U.S. Transportation Security Administration. See airanimal.com to learn more about Pet Moving Made Easy®. Reach out through LinkedIn.