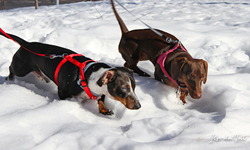 "Of the two rabies antibody tests available, only the FAVN-OIE is accepted by all countries. Most countries require rabies vaccination at least 30 days before the rabies antibody blood draw."--Walter M. Woolf, VMD Air Animal Founder and Veterinarian
TAMPA, Fla. (PRWEB) May 28, 2020
Many countries in the world are rabies free, and their animal import regulations guard their country bio-security. The attached table presented by Air Animal Pet Movers details common destinations requiring rabies antibody testing before importing dogs, cats and ferrets.
There are two types of rabies antibody titer tests—FAVN-OIE and RFFIT. Only the FAVN-OIE is accepted by all countries. Testing must be run at an approved lab. Most countries require rabies vaccination on a microchipped pet at least 30 days before the rabies antibody blood draw. Some destinations require at least two rabies vaccinations before the blood draw.
Following the destination country veterinary protocol is critical to a successful move. If something isn't done correctly at any step, the move will be delayed. The rabies antibody blood draw must be done by a USDA-accredited veterinarian. Dog owners should expect a minimum of at least four veterinary visits and cat owners should expect a minimum of three visits to complete the required protocols for some countries.
Planning ahead to the next move can be critical for corporate transferees. For example, a dog moves to Japan in 2019 with an approved FAVN-OIE and two years remaining on a three year rabies vaccination. As long as the dog is re-vaccinated in 2021 with no lapsed days in the vaccination, the FAVN-OIE would still be in effect and permit a move to European Union without needing to re-do the test. The critical factor is the rabies vaccination must not lapse—even by one day.
Air Animal's experienced pet move managers are available to help corporate transferees, relocating families and military families with PCS orders manage the timelines and required pet export documentation.
About Air Animal
Air Animal has helped more than 50,000 families move their 110,000 furry, feathered and scaly pets around the globe since 1977. They welcome referrals from major corporations, relocation management agencies, household goods movers, veterinarians, families, U.S. military and government transferees. Get the best in animal care and transportation. Air Animal is an appointed and endorsed IATA air cargo sales agency working with all airlines that move animals. They are an Indirect Air Carrier cleared for tendering live animals to airlines by the U.S. Transportation Security Administration. See airanimal.com to learn more about Pet Moving Made Easy®.