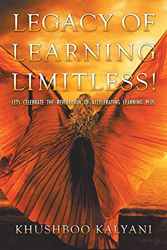 BENGALURU, India (PRWEB) February 03, 2020
Khushboo Kalyani marks her debut in the literary limelight with the release of "Legacy of Learning Limitless!: Lets Celebrate the Revolution of Accelerating Learning Plus" (published by Partridge India). The book offers a tool to self-discovery and divine recovery, teaching the countless positive ways humans can upgrade and enhance themselves inside out.
"Legacy of Learning Limitless!" centers on the alignment of the mind, body and soul. It leads the way to attaining spiritual growth while achieving financial advancement and improved physical, mental and emotional health. Additionally, it points out the value of quantifying learning with quality education.
The book is conceptualized for people to accelerate their alpha (powerful state) and beta state (awakened aware state) of brainwave while enhancing the theta state (creativity state) and depleting the delta state (sleep state).
"The society is scripted by decade old traditional beliefs and myths which has to be revolutionized for higher prospects of human wellbeing (internally & externally)," Kalyani explains. "Each human is equally blessed and equipped with potential to unlock their most powerful self. The awareness of this is already existing, but by taking radical actions, one is awakened while being aware."
At its core, "Legacy of Learning Limitless!" is a wakeup call for "lost spirituality." "It is the reinforcement of coding spiritual alignment as a mandatory education," Kalyani adds.
To purchase and know more about the book, visit https://www.amazon.com/Legacy-Learning-Limitless-Revolution-Accelerating/dp/1543704840/.
"Legacy of Learning Limitless!: Lets Celebrate the Revolution of Accelerating Learning Plus"
By Khushboo Kalyani
Softcover | 6 x 9in | 48 pages | ISBN 9781543704846
E-Book | 48 pages | ISBN 9781543704839
Available at Amazon and Barnes & Noble
About the Author
Khushboo Kalyani considers herself as a golden child. Unable to speak till the age of 5, her childhood experience was rare. Her family celebrated her, even though being born as a girl in their conservative society was not accepted. Her learning is not limited to just education and degrees but is quantified by constant change of city, culture, country, people. Having raised right, she considers her parents as teachers and her experiences as an opportunity, to evolve as a human. Living away from family, for 15 years due to education and work, Kalyani had a spiritual breakthrough and her life is not the same ever since she unboxed her potential.
Partridge Publishing, an imprint of Author Solutions, LLC, aims to help writers in Singapore, Malaysia, India and Southern Africa become published authors. Partridge gives authors in these region direct access to a comprehensive range of expert publishing services that meet industry standards but are more accessible to the market. For more information or to publish a book, visit http://www.partridgepublishing.com or call 800 101 2657 (Singapore), 1 800 81 7340 (Malaysia), +44 20 3014 3997 (Africa)
or 000.800.10062.62 (India).