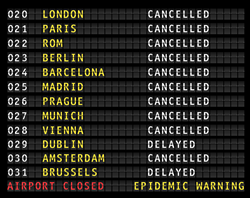 This is a complex, time-consuming process and the sheer volume of cases will compound that exponentially. Over the long run, however, it will be worth the effort, in terms of both recovered revenue and sustainability.
TAMPA BAY, Fla. (PRWEB) September 09, 2020
Air travel, radically curtailed by the onset of the coronavirus pandemic, began recovering somewhat in May; however, the number of passengers passing through airport security checkpoints on the busiest day of that month amounted to only 14% of the travel volume on the equivalent day in 2019.(1) As to the hotel industry, recent research from McKinsey & Company suggests that recovery to pre-COVID-19 levels could take until 2023—or later.(2) "Much of this reduction in travel volume," says Monica Eaton-Cardone, an entrepreneur and IT executive specializing in risk management and fraud prevention, "represents the cancellation of prepaid reservations. The industry needs to do everything it can to mitigate resulting chargeback losses."
Underscoring the importance of this advice, says Eaton-Cardone, is the extremely serious situation facing the overall travel and hospitality sector. In May, both American Airlines and Delta announced imminent reductions in workforce through both voluntary exit programs and layoffs.(3) In early August, Hilton Worldwide Holdings announced revenue of $564 million for the second quarter, down 77.3% from the second quarter of 2019.(4)
Countless consumers, Eaton-Cardone notes, have already paid via credit card for flights and hotel stays that may never happen. Plane tickets or rooms purchased with a credit card, she points out, give the customer the option of filing a chargeback if the carrier goes under. However, in the case of multiple bankruptcies of large companies, there may be no one to whom the acquirer can pass along the bill, and acquirers have already started taking legal steps to mitigate their risk.
Tips and Rights

If you had to cancel a travel reservation, before you solicit a refund and/or file a claim with your credit institution, speak with the travel company. There may be options that appeal to you. Speaking directly with a company is always a good idea and should be the first step.
The U.S. Department of Transportation reports that airlines are obligated to offer refunds—the ticket price and any cancellation fee. If they do not, file a report with the department.
Every consumer has the right to dispute a credit charge—whether it's as a result of a COVID-19 cancellation issue or not. As old-fashioned as it may sound, your best bet is to send the creditor a letter describing the dispute. Include all pertinent information and send the letter by certified mail with a return receipt. Keep all documents.
The Federal Trade Commission (FTC) enforces the Fair Credit Billing Act (FCBA) for most creditors—except banks. If you think a creditor has violated the FCBA, file a complaint with the FTC.
To encourage card use and retention—and wherever possible to encourage consumers with paid reservations to stay the course until normal travel resumes—some premium card issuers have announced new perks and offerings such as statement credit on select U.S. streaming video and wireless telephone services, the ability to use travel credit at gas stations and grocery stores, and the use of travel credit at restaurants.(5)
This, however, says Eaton-Cardone, probably represents more of a holding action than a solution. For airlines and hotel companies, she counsels that the best move is to prevent as many chargebacks as possible by working closely with consumers to resolve the situation. For customer disputes that do get filed, however, she says that merchants should challenge all that could be proven invalid.
"This is a complex, time-consuming process," says Eaton-Cardone, "and the sheer volume of cases will compound that exponentially. Over the long run, however, it will be worth the effort, in terms of both recovered revenue and sustainability."
About Monica Eaton-Cardone: 
As an acclaimed entrepreneur, speaker, and author, Monica Eaton-Cardone is widely recognized as a thought leader in the FinTech industry and a champion of women in technology. She established her entrepreneurial credentials upon selling her first business at the age of 19. When a subsequent eCommerce venture was plagued by revenue-leeching chargebacks and fraud, Eaton-Cardone rose to the challenge by developing a robust solution that combined human insight and Agile technology. Today, her innovations are used by thousands of companies worldwide, cementing her reputation as one of the payment industry's foremost experts in risk management, chargeback mitigation, and fraud prevention. Monica Eaton-Cardone is honored to be the recipient of various industry awards. Her own expertise, as well as the services provided by her companies, have been recognized as outstanding by her peers and other industry leaders. For more information, visit  http://www.monicaec.com.  
1. Wallace, Gregory. "Air Travel Is Bouncing Back ... Sort Of." CNN, Cable News Network, 1 June 2020, wcnn.com/2020/06/01/business/air-travel-increases/index.html.
2. Krishnan, Vik, et al. "Hospitality and COVID-19: How Long until 'No Vacancy' for US Hotels?" McKinsey & Company, 10 June 2020, mckinsey.com/industries/travel-logistics-and-transport-infrastructure/our-insights/hospitality-and-covid-19-how-long-until-no-vacancy-for-us-hotels.
3. Valinsky, Jordan, and Gregory Wallace. "American and Delta Are Preparing for Potentially Massive Layoffs." CNN, 29 May 2020, cnn.com/2020/05/28/business/american-airlines-delta-employee-buyouts/index.html.
4. Maake, Katishi. Bizjournals.com, bizjournals.com/washington/news/2020/08/06/hiltons-revenue-bombs-during-second-quarter.html#.
5. The Points Guy. "Are These 9 Premium Travel Credit Cards Offering Enough Perks Amid The Coronavirus Pandemic?" Forbes, 2 June 2020, forbes.com/sites/thepointsguy/2020/06/02/are-these-9-premium-travel-credit-cards-offering-enough-perks-amid-the-coronavirus-pandemic/#753835ff637b.