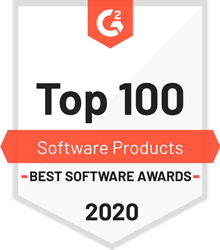 We take our commitment to excellence in everything that we do at KnowBe4 very seriously, so it's amazing to be recognized as a best software company by G2. -Stu Sjouwerman, CEO, KnowBe4
TAMPA BAY, Fla. (PRWEB) April 21, 2020
KnowBe4, the provider of the world's largest security awareness training and simulated phishing platform, today announced it has ranked number 53 on G2's list of Best Software Companies 2020. KnowBe4 received five additional awards for leadership, best results, best relationship, best usability and most implementable.
Akin to The People's Choice Awards for tech companies, G2's Best Software Awards rank the world's best software companies and products based on authentic, timely reviews from real users.
Tech companies on the list have proven their commitment and value based on hundreds, if not thousands of verified reviews. With over 57,844 software companies on G2, KnowBe4 is honored to be recognized on the Best Software Companies list, an achievement that can only be earned through the endorsement of its users.
G2 created the Best Software Companies 2020 based on data from over 1M authentic, verified customer reviews. These reviews were written and published between January 1, 2019 - March 3, 2020. These reviews — each vetted by a real person to ensure legitimacy — spanned across 77,381 software products.
This is KnowBe4's first time on one of G2's Best Software lists.
"This isn't a subjective list based on a few peoples' opinions," explains G2 CEO, Godard Abel. "With the highest traffic and engagement, largest selection of product and services, and highest quality data, G2 analyzes more than 4 million data point to determine which products and companies make the list."
"When we built the KnowBe4 platform back in 2010, one of our main goals was to create a platform that was intuitive and easy for customers to implement, so it's wonderful to be recognized in those areas," said Stu Sjouwerman, CEO, KnowBe4. "We're all about providing fantastic customer service and it doesn't get any better than earning an award based on reviews directly from our customers. We take our commitment to excellence in everything that we do at KnowBe4 very seriously, so it's amazing to be recognized as a best software company by G2."
Criteria: Winners were determined based on reviews left at G2Crowd.com between Jan. 1 and Dec. 31, 2018. All scores are calculated using G2's algorithms, including for Satisfaction and Market Presence, explained in detail here. Further information on methodology is available upon request.
About KnowBe4
KnowBe4, the provider of the world's largest security awareness training and simulated phishing platform, is used by more than 32,000 organizations around the globe. Founded by IT and data security specialist Stu Sjouwerman, KnowBe4 helps organizations address the human element of security by raising awareness about ransomware, CEO fraud and other social engineering tactics through a new-school approach to awareness training on security. Kevin Mitnick, an internationally recognized cybersecurity specialist and KnowBe4's Chief Hacking Officer, helped design the KnowBe4 training based on his well-documented social engineering tactics. Tens of thousands of organizations rely on KnowBe4 to mobilize their end users as the last line of defense.