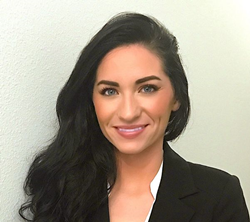 Becoming KnowBe4's general counsel right out of law school was a career dream. It's an honor to be recognized by the Tampa Bay Business Journal as one of the 2019 honorees for Top Corporate Counsel. -Alicia Dietzen, General Counsel, KnowBe4
TAMPA BAY, Fla. (PRWEB) March 14, 2019
KnowBe4, the provider of the world's largest security awareness training and simulated phishing platform, today announced that its General Counsel Alicia Dietzen has been selected as an honoree for the Tampa Bay Business Journal's Top Corporate Counsel Awards.
In her first year out of law school after achieving her JD in Law, Dietzen become general counsel at KnowBe4. She stepped into KnowBe4 as the organization's first in-house attorney and was tasked with taking on their legal affairs while creating a solid foundation to build upon during a period of hypergrowth. Dietzen was selected as a finalist in the 2018 Top Corporate Counsel Awards under the Up and Comers category.
"Becoming KnowBe4's general counsel right out of law school was a career dream," said Dietzen. "It's an honor to be recognized by the Tampa Bay Business Journal as one of the 2019 honorees for Top Corporate Counsel. I look forward to continuing to contribute to the legal community in the Tampa Bay area."
"I took a chance on Dietzen a few years ago when I hired her to be our general counsel straight out of law school," said Stu Sjouwerman, CEO, KnowBe4. "She has turned out to be an absolute asset to the organization, leading the effort to build our entire legal department from scratch. Dietzen has also managed the process of setting up or acquiring nine subsidiaries worldwide. She always gives sound legal advice and is someone I highly respect and value as our general counsel."
For more information on KnowBe4, visit http://www.knowbe4.com. For more information on the Tampa Bay Business Journal's 2019 Top Corporate Counsel honorees, click here.
About KnowBe4
KnowBe4, the provider of the world's largest security awareness training and simulated phishing platform, is used by more than 24,000 organizations around the globe. Founded by IT and data security specialist Stu Sjouwerman, KnowBe4 helps organizations address the human element of security by raising awareness about ransomware, CEO fraud and other social engineering tactics through a new-school approach to awareness training on security. Kevin Mitnick, an internationally recognized cybersecurity specialist and KnowBe4's Chief Hacking Officer, helped design the KnowBe4 training based on his well-documented social engineering tactics. Thousands of organizations rely on KnowBe4 to mobilize their end users as the last line of defense.
Number 96 on the list Inc. 500 of 2018, number 34 on 2018's Deloitte's Technology Fast 500, and 2nd place in Cybersecurity Ventures Cybersecurity 500, KnowBe4 is headquartered in Tampa Bay, Florida, with offices in England, the Netherlands, Germany, South Africa and Singapore.