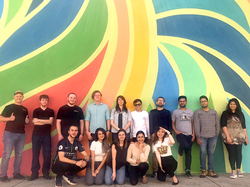 We wanted to create an innovative, challenging and dynamic internship program for students and recent graduates. This year's internship program was a huge success and I am sure we will continue to make it even more incredible in the years to come. -Kelly Barrena, Director of Talent Outreach, KnowBe4
TAMPA BAY, Fla. (PRWEB) July 31, 2019
KnowBe4, the provider of the world's largest security awareness training and simulated phishing platform, is currently holding its inaugural summer internship program. Throughout the 12 weeks, five interns in Finance, four in Technical Support, two in People Operations, two in Courseware, and two in Public Relations have been able to engage in meaningful work to obtain a multitude of skills specific to learning on-the-job skills and furthering their careers.
The KnowBe4 interns had the chance to attend three "Ask Me Anything" sessions with top executives as well as three professional development sessions with the HR team and career development directors. The development sessions were tailored for interns to gain tips on job searching strategies, how to use social media as a self-branding tool, and to customize job targets. By embracing KnowBe4's culture of fun, interns also attended two team-building outings.
"We wanted to create an innovative, challenging and dynamic internship program for students and recent graduates," said Kelly Barrena, director of talent outreach, KnowBe4. "Project-based learning is an important component that we wanted to incorporate into the program, so we made sure each intern had a specific project or projects of focus that he/she would be able to complete by the end of the internship program; offering the interns a sense of accomplishment. This year's internship program was a huge success and I am sure we will continue to make it even more incredible in the years to come."
KnowBe4 is an organization that encourages diversity and self-improvement. With millennials making up over 50% of the staff, a positive, motivating and fun company culture is valued and prioritized. The culture of KnowBe4 and its policy of radical transparency are key components to making the organization an award-winning place to work.
"The best part about KnowBe4 is the people," said Kedar Khanolkar, a finance intern. "I was made to feel at home by my colleagues right from day one, which has made this an amazing summer."
The KnowBe4 Summer Internship Program will end with a farewell graduation party on August 9 where the accomplishments of the interns will be presented to managers and executives. Applications for the KnowBe4 2020 Summer Internship Program will open in September 2019. For more information on KnowBe4 jobs, visit http://www.knowbe4.com/jobs.
About KnowBe4
KnowBe4, the provider of the world's largest security awareness training and simulated phishing platform, is used by more than 27,000 organizations around the globe. Founded by IT and data security specialist Stu Sjouwerman, KnowBe4 helps organizations address the human element of security by raising awareness about ransomware, CEO fraud and other social engineering tactics through a new-school approach to awareness training on security. Kevin Mitnick, an internationally recognized cybersecurity specialist and KnowBe4's Chief Hacking Officer, helped design the KnowBe4 training based on his well-documented social engineering tactics. Tens of thousands of organizations rely on KnowBe4 to mobilize their end users as the last line of defense.
Number 96 on the 2018 Inc. 500 list, #34 on 2018 Deloitte's Technology Fast 500 and #2 in Cybersecurity Ventures Cybersecurity 500. KnowBe4 is headquartered in Tampa Bay, Florida with European offices in England, the Netherlands, Germany and offices in Brazil, South Africa and Singapore.