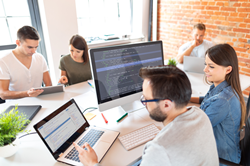 "The continuing shift to digital financial services paves the way to significant opportunities for new and growing organizations. One of those is with white label prepaid cards,"
LONDON (PRWEB) September 25, 2020
When KnowByLity (KBL) was created, its primary goal was to open doors to success for start-ups and growth enterprises via innovative prepaid card issuing software. According to KBL's founder, Steven Foster, the company has done exactly that via its end-to-end white label prepaid card issuing and management platforms. And he says that is not only good news for the businesses themselves but for individuals and communities around the globe.
"The continuing shift to digital financial services paves the way to significant opportunities for new and growing organizations. One of those is with white label prepaid cards," Foster, Founder explained. "By showcasing their brand on a prepaid Mastercard or Visa card, these organizations can establish stronger relationships with customers, employees and the general public, which translates to ongoing, financial return. At the same time, they are providing individuals with alternative banking options, which has far-reaching positive effects."
KBL's complete mobile and desktop card issuing platforms let businesses jump straight into prepaid while cutting out the years it takes to build a platform. The card programs run the gamut from general use cards to gift cards, debit cards, payroll cards, transit cards and HSA cards. KBL specializes in custom prepaid card issuance software platforms that integrate with each client's systems while also managing program operations, staff training and providing call center support. KBL can also arrange BIN sponsorship, cross-border and global currency logistics, sponsor bank and card vendor relationships.
Those software solutions are packed with card user-friendly money management and transactional features that are also graphically appealing. Yet, it's as much what customers see as what they do not that makes partnerships with organizations like KBL most appealing. Its full-stack platform is powered by sophisticated backend operations, which ensure all geographically-varied banking regulations are followed and all security safeguards and fraud protections are considered.
"Plain and simple, digital solutions are allowing an ever-growing number of people and businesses to participate in the global economy. Transaction and service costs are lower and those who were previously left out of the traditional banking system have been empowered through these fintech tools," added Foster. "It stands to reason - and the stats bear this out - that tying one's brand to those tools will reap associated benefits. KBL is here to make it easy to get up and running and manage their white label programs for the long-term."
About KnowByLity:
KBL offers comprehensive mobile and desktop platforms tailored to clients' varying needs along with customer experience platforms. It's software solutions ensure white label programs are rich in features and functions, simple to use, graphically appealing, and above all else, compliant with all financial services regulatory requirements. For more information on KBL and its solutions, please visit http://www.kblholdings.com and http://www.bancked.com.