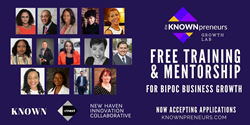 "The unique needs of minority business owners were the driving impetus when developing this comprehensive 16-week training curriculum. Businesses participating in the KNOWNpreneurs Growth Lab receive 32 hours of instruction in key areas, ensuring a competitive advantage..." Samantha Williams
NEW HAVEN, Conn. (PRWEB) December 02, 2020
KNOWN Coworking establishes an innovative initiative to intentionally support members of the local Black, Indigenous, People of Color (BIPOC) business community. Through strategic investments in education, mentorship, and economic development, KNOWNpreneurs Growth Lab https://knownpreneurs.com provides minority-owned businesses with tools, connections, and resources to promote sustainable economic growth.
Through the financial support of CTNext and the New Haven Innovation Collaborative, KNOWNpreneurs Growth Lab partners with BIPOC business leaders, mentors, and trainers to provide focused business instruction, training, and mentorship. KNOWN Coworking Founder, Juan Salas-Romer, is a real estate and finance entrepreneur who migrated from Venezuela in 2001. Salas-Romer's experience leaving his home country and successfully starting businesses in the U.S. motivated him to increase social equity and economic development for minorities in New Haven. "This program is hosted by KNOWN Coworking, which fosters a self-sustaining ecosystem and increases accessibility to economic opportunities through inclusion and growth," commented Salas-Romer, also President and CEO of NHR Group.
The KNOWNpreneur Growth Lab is a free program that consists of 10-12 KNOWNpreneurs and five (5) mentors. BIPOC-owned businesses, in the growth phase, located in the Greater New Haven area, with revenues less than $500,000, are welcome to apply. Business owners negatively impacted by the Coronavirus (COVID-19) pandemic are urged to apply.
Participating businesses, KNOWNpreneurs, will receive targeted training, mentorship, and networking opportunities throughout the cohort. Mentors, instructors, and KNOWNpreneurs who attend in-person can work from the KNOWN Coworking offices the days they meet for the KNOWNpreneurs Growth Lab.
Mentors for the KNOWNpreneurs Growth Lab Mentors consist of Black, Latinx, and Indigenous business professionals, including KNOWN Coworking Founder, Juan Salas-Romer; Sam's Word President & CEO and KNOWNpreneurs Growth Lab Program Manager, Samantha Williams; RM Consulting Services Principal/CEO, Randi McCray; Peralta Design, Founder and Chief Brand Officer, Ramon Peralta; and Haute Ice Events, Owner, Lakesha Oliver. KNOWNpreneurs will meet with Mentors twice a month, either in-person or virtually. All KNOWNpreneurs will receive a minimum of eight (8) hours of personal mentorship throughout the program.
The KNOWNpreneurs BIPOC-focused curriculum was designed by Program Manager, Samantha Williams and includes topics not typically addressed in other business programs. "The specific and unique needs of minority business owners were the driving impetus when developing this comprehensive 16-week training curriculum. Businesses participating in the KNOWNpreneurs Growth Lab receive 32 hours of instruction in key areas, ensuring a competitive advantage in innovatively challenging industries," commented Williams.
The KNOWNpreneurs application is open through Wednesday, December 9, 2020. Cohort participants will be announced the week of December 14, 2020. The 16-week KNOWNpreneurs Growth Lab program begins Monday, January 11, 2020.
Media Contact:
Samantha Williams
KNOWNpreneurs Program Manager
139 Orange Street
New Haven, CT 06510
(203) 800–7119
KNOWNpreneurs@KNOWNCoworking.com