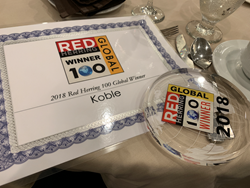 We believe Koble embodies the vision, drive and innovation that define a successful entrepreneurial venture.
BOSTON (PRWEB) October 30, 2018
Red Herring announced its Top 100 Global in recognition of the leading private companies from North America, Europe, and Asia, celebrating these startups' innovations and technologies across their respective industries.
Red Herring's Top 100 Global list has become a mark of distinction for identifying promising companies and entrepreneurs. Red Herring editors were among the first to recognize that companies such as Facebook, Twitter, Google, Yahoo, Skype, Salesforce.com, YouTube, and eBay would change the way we live and work.
"Choosing the companies with the strongest potential was by no means a small feat," said Alex Vieux, publisher and CEO of Red Herring. "After rigorous contemplation and discussion, we narrowed our list down from hundreds of candidates from across the globe to the Top 100 Winners. We believe Koble embodies the vision, drive and innovation that define a successful entrepreneurial venture. Koble should be proud of its accomplishment."
"We're thrilled to receive this distinction from Red Herring," said Fabrice Saporito, Koble Founder and CEO. "I believe the recognition of Koble as a Red Herring Top 100 Global company illustrates the potential we have to reimagine the way larger corporations and smaller companies connect to do business around the world. We're opening the door for small businesses across the globe to a trillion dollar opportunity of supplier contracts with Fortune 1000 companies on the Koble platform."
Red Herring's editorial staff evaluated the companies on both quantitative and qualitative criteria, such as financial performance, technology innovation, management quality, strategy, and market penetration. This assessment of potential is complemented by a review of the track records and standing of startups relative to their peers, allowing Red Herring to see past the "buzz" and make the list a valuable instrument of discovery and advocacy for the most promising new business models from around the world.
About Koble
Koble is a business-to-business (B2B) matchmaking platform that is reimagining the way larger companies and smaller businesses connect. The Koble platform is a buyer-friendly community that encourages business professionals like you to use content to spark genuine conversations and mutually beneficial engagements. Matches between business buyers and sellers are created through the Koble platform and the Koble mobile application when a user shows interest in the content posted by another user or by viewing a company profile page. By improving upon current B2B social networks and platforms that are designed solely for building personal brands, businesses on Koble see message response rates twice as high as the response rates on other professional networks and click-through rates more than five times the industry average.
Koble is headquartered in Boston. To learn how Koble can help you make more valuable business connections, visit http://www.koble.com.