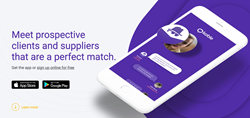 We're beyond excited to partner with Axiata Business Services to bring our B2B social network to hundreds of millions of their enterprise customers.
BOSTON (PRWEB) August 20, 2018
Today, Koble, a leading global business-to-business matchmaking platform, signed an Asia-wide exclusive licensing agreement with Axiata Business Services Sdn. Bhd., operating under the brand Xpand, to offer millions of small and medium-sized enterprises (SME) a digital business matchmaking service to meet clients and suppliers that are a perfect match for commercial opportunities. Xpand is the enterprise solutions and Internet of Things (IoT) business and wholly owned subsidiary of Axiata Group Berhad (Axiata), one of Asia's largest telecommunications groups with more than 350 million customers and a presence in 11 countries.
The Koble platform enables business professionals to discover, connect and facilitate business deals with clients and suppliers around the world. Recognizing a need to improve upon current business-to-business (B2B) networks that are designed solely for building personal brands, the Koble platform combines the power of social networking with the intelligence of anonymous and AI-powered matchmaking to improve relationship management for both qualified buyers and sellers looking to grow their businesses.
Together, the companies will bring localized versions of Koble to millions of business within the Axiata markets and around Asia. Working through Axiata's market-leading mobile operators, amongst them Celcom Axiata in Malaysia and XL Axiata in Indonesia, Xpand will distribute Koble to businesses in the region. Axiata operators will bundle the Koble platform at an attractive price exclusively for its enterprise customers and will be the first to roll out the service in the region.
Xpand's exclusive partnership of the Koble platform further extends to Qorus Mobile Alliance markets such as Singapore, India, Thailand, Vietnam and Philippines, where it will work with the consortium of market-leading operators to roll out the services.
"We're beyond excited to partner with Axiata Business Services to bring our B2B social network to hundreds of millions of their enterprise customers," said Fabrice Saporito, Koble Founder and CEO. "It's hard to overstate how much of a landmark day this is for Koble as we instantly gain distribution to one of the largest professional user bases across Asia. Nearly one out of every four business professionals globally calls this region of the world home today, and they are increasingly demanding a professional network for growing their businesses rather than just their careers."
Asri Hasan, Chief Executive Officer of Xpand, said, "With the mission to meet the complex and sophisticated requirements of businesses, Xpand is focused on bringing new and cutting-edge enterprise communications solutions to Asia. This exclusive Asia-wide licensing partnership with Koble is one step forward in fulfilling our role in providing access to businesses in this region to a global market and helping them expand their business reach."
"In connecting our network of enterprise customers with the Koble platform, we will enable them to engage with each other online for business opportunities, while also opening the door for them to a trillion dollar opportunity of supplier contracts with Fortune 500 companies already on the borderless platform anywhere in the world."
"Koble customer research indicates that nearly one-third of Internet-savvy small enterprises in Malaysia say finding new customers is their company's biggest challenge and networking online is their top tactic for discovering leads," noted Saporito. "We strongly believe that Koble will quickly become their go-to professional social network for not only discovering new customers, but closing deals with them."
Koble's buyer-friendly community sparks genuine conversations between buyers and sellers that express their needs and markets their products and services digitally. The response rate from sellers reaching out to buyers on the Koble platform is the highest in the industry with an average of over 33% during the last 12 months.
"Within our trusted community of professionals looking to buy and sell, message response rates are twice as high as the response rates on LinkedIn, and Koble's click-through rate on interactions is more than five times the average seen on the world's current largest professional network," added Saporito.
Celcom Axiata will be first to market Koble in Asia in September 2018. The Koble platform, accessible on the web at Koble.com, and through the iTunes App Store and Google Play Store, is currently used by companies such as GE, Oracle, Harley Davidson, AXA, Sprint, Carlsberg and thousands of SMEs seeking to do business globally.
About Koble
Founded in 2016, Koble is a B2B matchmaking service that is reimagining the way larger companies and smaller businesses connect. A buyer-friendly community where content sparks meaningful conversations, Koble promotes authenticity, privacy and relevance to help professionals uncover genuine business relationships. On the app, a match is created after a user has shown interest in the content posted by another user or by viewing its profile. From here the user can start a chat with their match and convince them to reveal their identity. When successful, users are free to connect, meet and freely communicate.
By encouraging our users to ask for help or share original content from their company with the community they join, we've seen new relationships being formed in over 1 out of 3 matches!
Koble is headquartered in Boston. To learn how Koble can help you make more valuable business connections, visit http://www.koble.com.
About Axiata Business Services
Axiata Business Services, is a wholly owned subsidiary of Axiata Group Berhad (Axiata), one of Asia's largest telecommunications groups with over 350 million customers across 11 countries in ASEAN and South Asia. Operating under the brand 'Xpand', the company is focused on providing new and cutting-edge enterprise communications solutions to the multi-billion dollar addressable market of Business to Business (B2B) and Business to Business to Consumer (B2B2C) companies across multiple industries within the Axiata footprint. Please visit https://www.xpand.asia/ for more information.