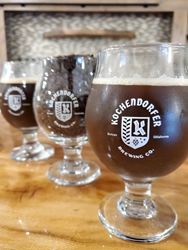 DUNCAN, Okla. (PRWEB) November 19, 2019
The highly anticipated opening of Duncan's first brewery is coming very soon. The Kochendorfer Brewing Company will host their grand opening on Saturday, November 23 at the brewery located at 1155 McCurdy Road. After many months leading up to the announced opening date, Kochendorfer is sure to deliver a spectacular grand opening with all eyes and taste buds on their craft beers.
The grand opening will be held from 1:00 PM-11:00 PM. The festivities for the day will include food trucks and a live performance by Chance Anderson. Attendees may easily purchase tickets online at http://www.kochendorferbrewing.com. Each $20.00 advance ticket will include 2 beers and a Kochendorfer Grand Opening commemorative beer glass.
If visiting Duncan from out of town for the grand opening, Kochendorfer Brewing Company has worked with the Duncan Holiday Inn Express and Hampton Inn to provide hotel rooms at a special rate of $99.00 per night for attendees. If interested, please contact your preferred hotel choice and mention the brewery's event.
The brewery began with Chris and Laura Kochendorfer, and Lenny and Kathryn Cripps. When the Kochendorfers and Cripps first met, it was obvious they shared the same dream of one day opening a brewery. With the Kochendorfer's entrepreneurial spirit and the Cripps' vast knowledge of the craft beer industry, Kochendorfer Brewing Company was born. After some disappointments in starting the brewery in Oklahoma City, it became apparent that, with the Cripps residing near Duncan and Laura's family ties to the area, Duncan would be the perfect place to begin this journey. The brewery is located at 1155 McCurdy Rd in Duncan, sitting on five wooded acres of land with a large covered patio space, and is a destination for friends and families to get together. The brewery will host tours, as well as maintain a taproom for craft beer purchases. Future plans include a bandstand, food trucks, family-friendly outdoor games, walking trails, as well as a fenced-in playground so that families can get away for the day and enjoy the outdoors together.
For more information, please contact Kochendorfer Brewing Company at info@kochendorferbrewing.com.