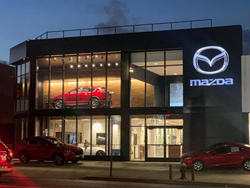 JACKSON HEIGHTS, N.Y. (PRWEB) November 03, 2018
Get ready Jackson Heights, Koeppel Mazda is pleased to announce the Grand Opening of the all new State-of-the-Art Luxury Mazda Dealership. The all-new Koeppel Mazda, boasting an impressive 20,000 square foot building, was built as part of The Koeppel Auto Group's new crop of dealerships, representing the very best in the Mazda shopping and service experience. With more room for service, parts and inventory, it features a large 8 vehicle indoor showroom, 11 service bays, new state of the art alignment machine and much more!
The new Koeppel Mazda is touted as the largest Mazda showroom and service facility in the tri-state area and also offers extended showroom and service hours, with all the comforts that customers desire including a large, comfortable luxury customer lounge with complimentary Wi-Fi, 65-inch, high definition widescreen television, charging stations and a premium coffee station in addition to other complimentary morning and afternoon snacks.
In building this new dealership, over two years in the making, Howard Koeppel and Susan and Mark Lacher, of the Koeppel Auto Group, reiterated the company's commitment to Jackson Heights and its surrounding communities. "Our company has been waiting for the opportunity to make an additional investment in our neighborhood. We previously operated this dealership across the street from the new location, but we believe that we can be a better value for our customers, and a better neighbor for the community, with this new facility," they said. And they'll soon be gearing up for their annual food and coat drive! The new and expanded facility is also expected to provide the Jackson Heights economy with a much-needed boost, due to the need for more manpower. According to Anthony Nesnick, the dealership's General Manager, it is predicted that the new Koeppel Mazda will provide the community with an influx of new jobs in every department!
The dedicated management and staff at the all-new Koeppel Mazda invite the entire community to stop by and tour the new facility, enjoy a complimentary cup of coffee and take advantage of the competitive prices on the entire lineup of new and pre-owned Mazda's during their Grand Opening Celebration November 10th-12th. For more information on Koeppel Mazda's Grand Opening, please contact Anthony Anesnick (516) 376-6088 anesnick(at)koeppelautogroup(dot)com
77-12 Northern Blvd, Jackson Heights NY 11372
(866) 828-4991