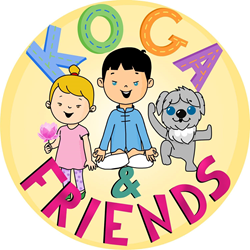 LOS ANGELES (PRWEB) October 31, 2020
In the fourth release from Koga and Friends, creators David Friedman and Philip Kholos continue the adventure of Koga, a boy who uses meditation, yoga, and kung fu to navigate life's challenges. In episode 4, "Surfing the Waves," Koga and his friends take to the sea for a special surfing lesson from Koga's dad. Together Koga and friends learn how to face more than just the ocean waves.
Using helpful techniques such as the warrior pose and mindful breathing, Koga and friends find out how to face their feelings—no matter how big they might seem. During the 12-minute episode, Koga and his friends ride the waves of their emotions to show their young audience how to healthily process them using original music from Disney composer David Freidman.
Koga and Friends combines the talents of composer David Friedman and meditation expert Philip Kholos. Friedman brings decades of Broadway musical experience to the channel with credits including "Joseph and The Amazing Technicolor Dreamcoat" and "Grease." Hollywood credits include several Disney animated films including "Beauty and The Beast," Pocahontas," "Aladdin," and "The Hunchback of Notre Dame." Kholos has over 23 years of yoga and meditation experience, and he currently teaches mindfulness exercises based on musical metaphors.
About Koga and Friends
Koga and Friends is a YouTube kids series that follows the adventures of Koga and his friends as they use yoga, kung fu, and meditation to focus their minds and strengthen their bodies.
Visit Koga and Friends YouTube Channel at https://www.youtube.com/c/kogaandfriends