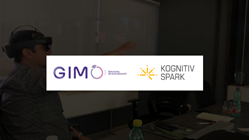 FREDERICTON, New Brunswick (PRWEB) April 15, 2020
Kognitiv Spark is partnering with Gimò Technology Solutions in Santiago, Chile. Gimò is a company with extensive experience in providing services to mining and other industrial sectors, that also supporting its customers with innovative technological solutions for asset management.
The team at Gimò understands the value of real-time remote worker support enabled through technology. This has led Gimò to become an official value-added reseller of Kognitiv Spark's RemoteSpark system, servicing all of South America.
RemoteSpark enables a remote worker, using a Microsoft HoloLens, to digitally connect with a subject matter expert (SME), using a Windows 10 PC, to facilitate complex troubleshooting. This system allows SMEs to see what the worker sees and guide them using voice, field-of-view annotations and task-relevant content (PDFs, Microsoft Documents, Images, multi-step 3D animated CAD assets) which appear as holograms in the remote worker's real-world environment.
With their expertise working with the mining sector, the team at Gimò quickly identified the need for a remote worker support tool for this industry, among others.
Considering that many mining sites in South America are operated by organizations headquartered throughout the continent and other parts of the world, the capability to deliver real-time guidance to on-site workers from anywhere in the world creates opportunities for mining operations to reduce SME travel while still providing a high level of support, while also helping reduce costly operational downtime.
With RemoteSpark as part of Gimò's service offering, the service and IT firm is poised to help deliver the benefits of Mixed Reality remote worker support throughout the continent.
"We see a tremendous opportunity with this alliance since Kognitive Spark is a leader in the development of this technology. Working together we ensure the provision of the best solutions to our clients in industrial and mining sectors throughout all of South America," Paola Ricordi, Executive Representative for South America of RemoteSpark for Hololens at Gimò.
The strategic partnership has rapidly evolved, with GIMO reporting traction and strong interest from clients and prospects as they move to adopt this technical capability.
"Gimò has long been facilitating digital transformation in a variety of industries, and their hands-on understanding of conditions that may be impacting access to industry sites in their geographical area makes them a clear choice for partnering with Kognitiv Spark as a value-added reseller," said Rodney McAffee, Vice President of Energy and Industrial Engineering at Kognitiv Spark.