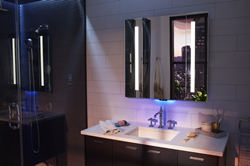 KOHLER, Wis. (PRWEB) May 21, 2019
Kohler Co., a global leader in the design and innovation of kitchen and bath products and luxury design brands, returns to the International Contemporary Furniture Fair (ICFF), Booth #2239, to showcase its latest offerings. Gathering inspiration from technology, recycled materials, and natural elements, each brand provides designs to enliven and enhance the kitchen or bath space.
Continuing the momentum from its debut at Milan Design Week, Kohler's 2019 Perspective of the Year, Experiential Luxury, will also be highlighted within the ICFF booth. Experiential Luxury is an examination of the details and layers that create rich and dynamic environments.
Products featured at this year's fair from Kohler Co. brands KOHLER, ANN SACKS, KALLISTA and Robern include:
DTV+ with KOHLER Konnect: The DTV+™ showering system with KOHLER Konnect allows users to create and automate a completely personalized showering experience. The KOHLER Konnect app manages presets for sound, water, steam and lighting and to activate the preset spa experiences offered through the DTV+ system.
Eir Intelligent Toilet: Expanding upon KOHLER's distinguished line of Intelligent Toilets, the new Eir Intelligent provides an added level of graciousness to any bathroom space. Utilizing an intuitive touchscreen remote, take complete control of the experience from heated seat levels to adjustable bidet sprays and water temperature. Eir showcases a sleek, modern look with an elegant finish strip on the lid that allows for design personalization.
Cast Iron Shadows Collection: Understanding a growing desire for more color within the home setting, Kohler introduces the Shadows Collection for Enameled Cast Iron products. Comprised of three vibrant hues, including Lavender Grey, Indigo Blue and Black Plum, the Shadows collection is an intuitive fit for any kitchen or bathroom.
PVD Ombré Finish: Kohler's Ombré finishes feature curated sets of color pairings of Vibrant Rose Gold to Vibrant Polished Nickel and Vibrant Titanium to Vibrant Rose Gold.
Verdera® Voice Lighted Mirror: The Verdera® Voice Lighted Mirror with Amazon Alexa is the first-to-market bathroom lighted mirror available to consumers that has Amazon Alexa embedded. Voice control allows for effortless functionality associated with playing music, receiving traffic updates, or adding items to a grocery list, all without creating clutter in the bathroom.
ANN SACKS, KALLISTA and Robern
ANN SACKS Crackle Collection by Kohler WasteLAB: Officially launched on April 19, the ANN SACKS Crackle Collection by Kohler WasteLAB will be shown in the Amber colorway. This bespoke tile series employs Kohler's unfired pottery cull as its medium, transforming the waste into a responsive tile body.
KALLISTA Myam Decorative Vessel: The Myam's sculptural elliptical form has an artful presence – perfectly scaled for more intimate spaces or when paired, creating dramatic effect within a room.
Robern: Robern will be displaying two of its 2019 designs to round out this year's offerings: Uplift Tech, which balances timeless design with state-of-the-art technology, and the Cartesian vanity in Reeded Glass – its classic lines inspired by the beauty of simple, repeated form reminiscent of Art Deco design.
Now in its 31st year, ICFF 2019 will be presenting "what's best and what's next" to a global audience of over 36,000 industry trade professionals that are expected to attend the show. ICFF 2019 will be located at the Jacob K. Javits Convention Center, 655 W. 34th Street, New York City, running from Sunday, May 19, through Wednesday, May 22.
For additional information about each brand and product offerings, please visit http://www.kohler.com, http://www.annsacks.com, http://www.kallista.com and http://www.robern.com.
About KOHLER®
Founded in 1873 and headquartered in Kohler, Wis., Kohler Co. is one of America's oldest and largest privately held companies. Kohler is a global leader in the manufacturer of kitchen and bath products, engines and power generation systems, cabinetry, tile and home interiors, and international host to award-winning hospitality and world-class golf destinations.
About ANN SACKS
Founded in 1981, ANN SACKS has built its reputation with inspiring designs in tile, stone, plumbing, lighting and accessories. Based in Portland, Ore., the company, along with sister brands, KALLISTA plumbing and Robern mirrored cabinetry and vanities, is a division of the Kohler Co. Decorative Products Group, and a wholly owned subsidiary of Kohler Co.
About KALLISTA
KALLISTA is known for its designs of luxury plumbing products, offering faucets and fixtures thoughtfully created for tasteful, whole-bath solutions. KALLISTA is available in fine showrooms in major cities throughout the world. Kallista, along with sister brands Ann Sacks Tile and Stone, Inc., and Robern mirrored cabinetry and vanities, is a division of the Kohler Co. Decorative Products Group, a wholly owned subsidiary of Kohler Co.
About ROBERN
Founded in 1968 in Bristol, Pennsylvania, Robern grew out of Rosa and Bernie Meyers' belief that individual style should be celebrated and fostered. Today, their pioneering approach to designing highly personalized styling spaces remains at the heart of what Robern does. Their commitment to craftsmanship and fine materials is evident in every piece Robern makes out of its Bristol headquarters. In 1995, Robern joined the Kohler Co. family of businesses, building upon the brand's comprehensive and thoughtful approach to exceptional styling spaces. From its humble beginnings to a technological force within home design, Robern remains the answer for designers, architects and consumers seeking out the finest in modern, sophisticated cabinetry, vanities, mirrors and lighting. For additional information on Robern products, customers may call 1 (800) 877-2376 or visit http://www.robern.com.