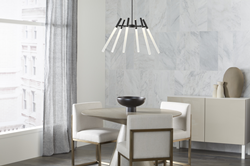 KOHLER, Wis. (PRWEB) October 12, 2020
Kohler Co., a leader in the design and manufacture of bathroom and kitchen products, launched its first KOHLER Lighting collections – Artifacts, Memoirs, Damask, Simpalo, Components, and Modern Farm – a wide-ranging compilation of modern to classic sconces, pendants, flushmounts and chandeliers that have been thoughtfully crafted to complement KOHLER's plumbing and kitchen products or stand alone as decorative lighting features.
A new product category within the KOHLER luxury group, which also includes the ANN SACKS, KALLISTA, and ROBERN brands, each lighting fixture was designed by Kohler with a focus on bathroom and kitchen applications, yet designed with the versatility to easily carry into other areas of the home, from entrance way chandeliers to dining room pendants.
"More and more decorative lighting has become a way for people to easily personalize a space," said Erin Hoover, director Design KALLISTA and KOHLER Lighting. "As bathrooms and kitchens reflect more individual personality, more design elements are being added, which certainly elevates the space and creates much more opportunity for design thinking and investment. You usually need to live with your bathroom and kitchen investment for some time though. Lighting can help you update these spaces without a lot of investment and effort. It is the jewelry that pulls the interior together."
Developed to appeal to a wide range of design tastes, the first collections found their inspiration from within, drawing from some of the most regarded kitchen and bath collections under the KOHLER umbrella, and from what the design team instinctively saw as emerging global trends. The lighting also reflects KOHLER's remarkable finish story, offering a range of finishes that perfectly color-match KOHLER and KALLISTA faucets and fixtures. Quality testing ensures that each light fixture will remain beautiful even after years of repeated exposure to damp environments. The designs have been thoughtfully engineered to ensure easy, foolproof installation, with removable shades and adjustable arms for perfect placement, and diffusers for soft, ambient light. The combined result is a compelling assortment of lighting to fit most lifestyles and budgets.
To support the needs of both the consumer and trade professional, KOHLER Lighting has products in stock in the U.S., ready to ship in North America within 48 hours after order placement. KOHLER Lighting can be purchased through KOHLER Signature Stores and KOHLER Experience Centers, and select KOHLER distributors, or online at http://www.us.kohler.com.
About KOHLER® Lighting
KOHLER Lighting is a division of Kohler Co. Decorative Products Group, joining sister brands ANN SACKS, KALLISTA and ROBERN. The KOHLER Lighting series of chandeliers, pendants, flushmounts and sconces feature details that shine – from edgy industrial chic to classic understated forms – offering whole home solutions to complement traditional, transitional and contemporary interiors.
About KOHLER®
Founded in 1873 and headquartered in Kohler, Wis., Kohler Co. is one of America's oldest and largest privately held companies. KOHLER is a global leader in the manufacturer of kitchen and bath products, engines and power generation systems, cabinetry, tile and home interiors, and international host to award-winning hospitality and world-class golf destinations.
For additional information regarding KOHLER Lighting, please visit http://www.us.kohler.com.