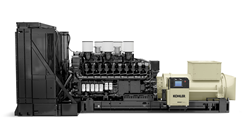 KOHLER, Wis. (PRWEB) April 27, 2020
We are excited to introduce the New 4500kVA (@50Hz) / 4000kW (@60Hz) diesel powered generator sets, KOHLER's most powerful systems on the market.
Late 2016, KOHLER-SDMO unveiled its all-new range of large diesel industrial generators powered by an entirely new line of KOHLER diesel engines represented by the K135 and K175 engine families. The generators range from 800kVA/800kWe to 3500kVA (@50Hz) / 3250kWe (@60Hz) respectively.
Today, based on a strong worldwide market response and an increasing demand on power in mission critical applications, KOHLER-SDMO is proud to officially expand the KD Series with the rollout of 4 new models ranging up to 4500kVA (@50Hz)/ 4000kWe (@60Hz). Developed by our global team of Engineers these new units are powered by our latest most powerful and sophisticated K175 engine, the KD103V20. This release expands the limits of standby generators and sets KOHLER apart as the most powerful diesel genset manufacturer in the market.
Building on the excellence of the KD Series product line these generators are designed to deliver extreme durability and ultimate reliability in a variety of emergency and prime applications. The modular design of the KD103V20 powered generator sets deliver unprecedented power density and unrivaled performance. Matched turbochargers are engineered for maximum power and response. High ambient cooling systems ensure performance is maintained in the most extreme environments. Fuel mapping options for either optimized consumption or emissions compliance enable the generators to be deployed globally without worry. Users of the KD Series generators will find cost savings because the line delivers the best fuel consumption at more nodes than any other competitor. KOHLER's proprietary advanced control and communication system ties the entire system together for a seamless customer experience.
When paired with KOHLER's global sales and support network the KD Series line-up provides leading performance for mission critical and industrial applications. Data centers, healthcare facilities, water utilities, and critical facilities such as airports; can rest assured with a KD Series generator set backed by KOHLER's Worldwide support network. And when service is needed, KOHLER has a global dealer and distribution infrastructure consisting of more than 800 facilities offering 24/7 parts availability.
The new KD Series products will be available for sale in June.
For more information, visit kdseries.com and watch the video.
About KOHLER-SDMO.
Founded in 1966, KOHLER-SDMO is today the leader in France and the 3rd largest manufacturer of generating sets worldwide. The company designs, manufactures and markets standard generating sets ranging from 1 kVA to 4500 kVA, which meet all power requirements and adapt to all applications. KOHLER-SDMO also puts its engineering expertise into practice to meet the most specific demands by designing tailor-made power plants. The company offers a complete turn-key service: from the design of the power plant to its installation, including on-site maintenance services. The dynamism of its customer services policy thereby guarantees the long-term operability of its facilities throughout the world.
About KOHLER Power.
A global force in power solutions since 1920, KOHLER is committed to reliable, leading-edge products and comprehensive after-sale support. KOHLER's acquisition of SDMO in 2005 created one of the world's largest manufacturers of generators and power solutions. The companies collectively have more than 150 years of experience in industrial power and now benefit from global R&D, manufacturing, and sales and service. For additional information, please visit kohlerpower.com or kohler-sdmo.com