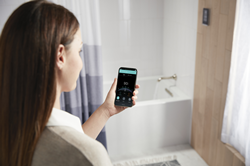 KOHLER, Wis. (PRWEB) November 15, 2022
Kohler, a global leader in innovation and manufacturer of kitchen and bath products, is honored to have two products recognized by TIME as the Best Inventions of 2022. Kohler's PerfectFill smart bath system and H2Wise+ Powered by Phyn smart water monitor take a prestigious slot in the Household category for this year.
Featuring 200 groundbreaking innovations,TIME's annual list of the Best Inventions honors the most impactful new products and ideas that are changing how we live, work, play and think. The TIME recognition follows other notable accolades awarded to the H2Wise product suite including the Good Housekeeping Home Renovation Awards and The Architect's Newspaper Best of Products.
KOHLER H2Wise+ Powered by Phyn
H2Wise+ marries Kohler's plumbing expertise with Phyn's industry-leading smart water monitoring technology to deliver a smart, home water monitoring solution. H2Wise+ analyzes the entire home's plumbing 24/7 to detect hidden issues every time water is turned on in the house and provides the ability to shut off the main water supply automatically and remotely when a leak is detected. The system's provided awareness can not only lead to cost savings and water conservation for homeowners, but also prevent catastrophic water damage.
KOHLER PerfectFill
PerfectFill smart bathing technology is a smart drain, digital/app controller and bath filler. PerfectFill draws a bath to a preferred temperature and desired depth with a simple voice command or through the KOHLER Konnect app, reducing time spent monitoring the bath as it fills. PerfectFill is sold as a drain kit (drain assembly and controller) and is designed to be paired with a Kohler digital valve, Kohler spout (deck- or wall-mount) and compatible Kohler bath.
To compile the list, TIME solicited nominations from TIME's editors and correspondents around the world, and through an online application process, paying special attention to growing fields—such as the electric vehicle industry, green energy, and the metaverse. TIME then evaluated each contender on a number of key factors, including originality, efficacy, ambition, and impact. TIME's full list of the Best Inventions can be found here.
About Kohler Co.
Founded in 1873 and headquartered in Kohler, Wisconsin, Kohler Co. is one of America's oldest and largest privately held companies comprised of more than 40,000 associates. With more than 50 manufacturing locations worldwide, Kohler is a global leader in the design, innovation and manufacture of kitchen and bath products; luxury cabinetry, tile and lighting; engines, generators, and clean energy solutions; and owner/operator of two, five-star hospitality and golf resort destinations in Kohler, Wisconsin, and St. Andrews, Scotland. Kohler's Whistling Straits golf course hosted the 43rd Ryder Cup in 2021. The company also develops solutions to address pressing issues, such as clean water and sanitation, for underserved communities around the world to enhance the quality of life for current and future generations. For more details, please visit kohlercompany.com.
About Phyn
Phyn is the leading intelligent water brand, bringing solutions to market that help people protect their homes, conserve water and save money. Built upon nearly a decade of research and patented technological innovation, Phyn is poised to change the way consumers interact with water and help solve the major challenges threatening the world's supply of clean, healthy water. Phyn has been widely recognized for its innovation, including honors from the Red Dot Awards, SXSW Innovation Awards, Core 77 Design Awards, IoT World Awards, CES Innovation Awards and GreenBuilder's Sustainability Awards among others. To learn more, visit http://www.phyn.com.