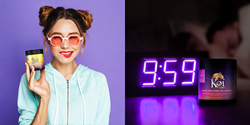 LOS ANGELES (PRWEB) October 27, 2020
Koi CBD, established in 2015, is well known for their array of CBD product offerings, but it seems they aren't stopping product innovation anytime soon. With their launch of Nighttime Rest and Anytime Balance broad spectrum gummies, Koi is looking to put their stamp on this rapidly growing segment of the CBD market.
Both new gummy lines are made with the company's premium Koi PRIZM™ Broad Spectrum hemp extract containing naturally-occurring CBD. They are also certified vegan, kosher and 100% allergen free.
The Anytime Balance gummy comes in an all-natural berry lemonade flavor and features 20 mg of CBD per serving of two gummies.
The Nighttime Rest gummy combines 20 mg of naturally-occurring CBD with 5 mg of melatonin per serving (2 gummies). This offering is also made with all-natural ingredients and can be enjoyed in a natural cherry limeade flavor.
"We are excited to launch our latest CBD gummies available in two varieties – Anytime Balance and Nighttime Rest. Made with all-natural ingredients and certified Vegan, each serving contains 20 mg of CBD from our Koi PRIZM™ broad spectrum hemp extract, along with 5 mg of melatonin in the Nighttime version," said Kevin Sather, Vice President of Marketing at Koi CBD. "Our customers have long enjoyed the benefits of our CBD gummies, and now have two new options to use in their health regimen."
The company's branded Koi PRIZM™ Broad Spectrum hemp extract containing naturally-occurring CBD is the star in both these new products, along with other all-natural ingredients. Koi consistently blends the CBD and other ingredients to ensure an even distribution throughout the manufacturing process. Plus, every batch of Koi CBD is tested multiple times during production and goes through full panel testing by an accredited 3rd party lab to ensure quality and that they remain free of any detectable THC, so they are non-intoxicating.
Koi CBD's new Anytime Balance and Nighttime Rest CBD gummies are available now at koicbd.com and are launching at Koi CBD retailers nationwide.
Koi CBD was founded in 2015 and is based in Norwalk, CA. Providing CBD tinctures, topicals, gummies, skincare and so much more, Koi boasts a robust product offering available on their website and at retailers nationwide. The company also sources hemp extract through a strict vendor validation process. All products are infused with hemp grown and extracted in the USA, which enables Koi to deliver consistent CBD products to all 50 states.