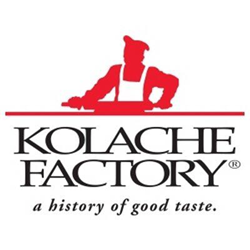 We appreciate being recognized by Franchise 500 for our strong brand, our sound business model, and our growth.
KATY, Texas (PRWEB) January 15, 2020
Kolache Factory, a unique national pastry chain based in Katy, Texas, recently ranked in Entrepreneur magazine's Franchise 500®, the world's first, best, and most comprehensive franchise ranking. Placement in the Franchise 500 is a highly sought-after honor in the franchise industry, making it one of the company's most competitive rankings ever. Recognized as an invaluable resource for potential franchisees, the Franchise 500 ranks Kolache Factory as #243 for its outstanding performance in areas including unit growth, financial strength and stability, and brand power.
"We appreciate being recognized by Franchise 500 for our strong brand, our sound business model, and our growth," said COO Dawn Nielsen. "We work hard to offer our customers a delicious and unique handmade pastry and offer our franchisees a business opportunity that will give them the support they need to be financially successful and a valued part of their local communities. It's why Kolache Factory is growing from coast to coast."
The key factors that go into the evaluation of the Franchise 500 include costs and fees, size and growth, support, brand strength, and financial strength and stability. Each franchise is given a cumulative score based on an analysis of more than 150 data points, and the 500 franchises with the highest cumulative scores become the Franchise 500 in ranking order.
Over its 41 years in existence, the Franchise 500 has become both a dominant competitive measure for franchisors and a primary research tool for potential franchisees. Kolache Factory's position on the ranking is a testament to its strength as a franchise opportunity.
"The 500 companies on this list all have something in common: They understand what consumers want now," says Entrepreneur editor in chief Jason Feifer. "Making our list means they're forward-thinking, nimble, and closely in touch with their customers' needs — because, in an ever-changing business environment, that's what a franchise must do to thrive."
To view Kolache Factory in the full ranking, visit http://www.entrepreneur.com/franchise500. Results can also be seen in the January/February 2020 issue of Entrepreneur, available on newsstands January 14.
About the Kolache Factory
Kolache Factory was founded in 1982 in Houston, Texas, by John and Jerri Banks, who identified a need for a fresh, high-quality breakfast that could be eaten "on the run." The Bankses encouraged consumers to try the high-quality, fresh pastries filled with fruits, meat, and cheeses, and soon they were in high demand for business meetings, family breakfasts, on-the-go lunches, and afternoon snacks. Kolache Factory has been recognized as one of the Top 5 Drive-Thrus in America by Food Network, one of the fastest-growing companies in Houston and one of the top 50 foodservice bakeries in the United States by Modern Baking magazine. In addition, Franchise Times magazine named Kolache Factory one of the 300 biggest brands in franchising by worldwide sales in 2017. Kolache Factory is privately owned and operated and headquartered in Katy, Texas. For more information please visit http://www.kolachefactory.com.