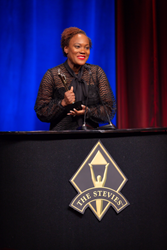 CHICAGO (PRWEB) November 21, 2019
Susan G. Komen Chicago Executive Director Dr. Tiosha Bailey has been named the winner of a Gold Stevie® Award in the category of Maverick of the Year in the 16th Annual Stevie® Awards for Women in Business. Komen Chicago was also named winner of a Silver Stevie® Award in the category of Organization of the Year (Government or Non-Profit with 10 or Less Employees).
Feedback from the Stevies judges was overwhelmingly positive. As one judge commented, "Never underestimate the power of a helping hand, including the hands of seven full time employees and dozens of volunteers. Susan G. Komen Chicago is moving mountains for not only research to cure breast cancer but to [provide] services to the survivors who need it! This agency without a doubt has been effective, holds integrity to the highest standards and can accomplish many aspects including the Metastatic Breast Cancer Conference. Conferences are difficult and costly, but the materials provided in this nomination show strategy, branding and programs for many on the front-lines, including patients, families, doctors and researchers - it takes a village and this application reflects this clearly."
The Stevie Awards for Women in Business honor women executives, entrepreneurs, employees and the companies they run – worldwide. The Stevie Awards have been hailed as the world's premier business awards. More than 1,500 entries were submitted this year by organizations and individuals in 25 nations for consideration in more than 90 categories, including Executive of the Year, Entrepreneur of the Year, Company of the Year, Startup of the Year, Women Helping Women, and Women Run Workplace of the Year.
For Susan G. Komen Chicago, breast cancer awareness is more than wearing pink in October. Every single day is a promise to save lives and end breast cancer forever. Over the past year, Komen Chicago has pivoted to revolutionize itself from an exclusive fundraising service, into a well-rounded, trusted advocacy group. With an expansion of revenue streams, a decrease in operational expenses, and increase in research and community grant investments year-over-year by 33.6% and 48.7%, respectively. Currently, 100% of all net proceeds are funneled directly back into breast cancer services, research initiatives, education and advocacy/policy efforts across Chicagoland. The nonprofit works tirelessly to increase access to quality care for those living with breast cancer, providing grants to trailblazing researchers working to find a cure for the disease; all to realize the vision to live in a world without breast cancer.
Following her announcement as the Executive Director of Susan G. Komen Chicago in June 2018, Dr. Tiosha Bailey has worked to take the organization to new heights, driving strategy and development to ensure measurable impact upon breast cancer outcomes through research, direct services, advocacy and public policy. Bailey is an agent of change in the public health sector. After having her life touched by cancer, Bailey has dedicated her entire public health career to bringing about meaningful change on pressing issues. She joined Komen Chicago to continue this legacy by working alongside other leaders in the space, addressing the systemic issues driving the breast cancer mortality rates in and around the city with a goal of achieving health equity.
"On behalf of the Komen Chicago board of directors, I want to congratulate Dr. Tiosha Bailey and her staff for this well-deserved honor," said Komen Chicago Board President Dr. Suzet McKinney. "We are incredibly proud of the important role Komen Chicago plays in fighting breast cancer and saving lives."
Nicknamed the Stevies for the Greek word for "crowned," the awards were presented to winners on November 15 during a dinner event attended by more than 550 people at the Marriott Marquis Hotel in New York City. The event was broadcast via Livestream.
Gold, Silver, and Bronze Stevie Award winners were determined by the average scores of more than 150 business professionals around the world, working on eight juries.
Details about the Stevie Awards for Women in Business and the list of Finalists in all categories are available at http://www.StevieAwards.com/Women.
About Komen Chicago
Susan G. Komen's promise is to save lives by meeting the most critical needs in our communities and investing in breakthrough research to prevent and cure breast cancer. One hundred percent of net proceeds are invested back into local community grant making and research initiatives. Komen Chicago's priorities include making sure everyone has access to quality healthcare options, fighting to ensure fewer people die from metastatic breast cancer and shining a light on the importance of early detection. To date, Komen Chicago has awarded $18.2 million in community breast health services and invested more than $6 million in breast cancer research.
About the Stevie Awards
Stevie Awards are conferred in eight programs: the Asia-Pacific Stevie Awards, the German Stevie Awards, The American Business Awards®, The International Business Awards®, the Stevie Awards for Great Employers, the Stevie Awards for Women in Business, the Stevie Awards for Sales & Customer Service, and the new Middle East Stevie Awards. Stevie Awards competitions receive more than 12,000 entries each year from organizations in more than 70 nations. Honoring organizations of all types and sizes and the people behind them, the Stevies recognize outstanding performances in the workplace worldwide. Learn more about the Stevie Awards at http://www.StevieAwards.com.