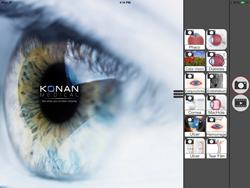 Irvine, CA (PRWEB) March 19, 2014
A new Media Library has been released on Apple's Retina iPad® as an enhancement of Konan's Chart2020 DUO application. As with the Blind Spot Amsler™ feature, the Media Library is available for a limited time at an introductory price from the iTunes Store®. The first release of the Media Library includes patient-friendly illustrations and videos on a wide range of eye disease and surgery topics such as macular degeneration, refractive surgery, cataract surgery, color vision / color blindness, diabetic retinopathy, endothelial dystrophies and more. The Media Library was developed to be extensible with future versions allowing third party images and other educational features.
The Chart2020 Duo app provides a novel framework for the testing of near and intermediate distance visual performance, as well as the most advanced controller for distance visual acuity and ocular performance testing for the Chart2020 Windows application. "The Media Library adds another element of usefulness for our eye care practice customers," said Charles Wm. Stewart, OD, Konan Medical USA CEO. "Our iOS products offer a terrific complement to our existing family of products balanced with low cost and high value for optometry, ophthalmology, and clinical research."
About Chart2020
Konan's Chart2020 is a platform of visual acuity and ocular performance testing solutions featuring guided, self-scoring Konan Wizards. An extensive library of industry standard, innovative polarized vision tests, ColorDx® military-grade color vision testing, and video and image media. Tests are uniquely controlled using a simple and intuitive user experience from the iPad Chart2020 Duo application, a minimalist Apple TV remote, a standard mouse and keyboard, or Konan's multi-button Chart2020 remote. Chart2020 is FDA listed, CE marked and compliant with ISO 8596-2009 standards. Chart2020 is used world-wide in academic, research, and clinical eye care practices. Chart2020 is also available with the ColorDx color vision tests developed by Terrace Waggoner, OD that were recently featured in the Wall Street Journal article New Outlook on Color Blindness.
About Konan Medical
Headquartered in Irvine, California, Konan Medical USA Inc. develops, manufactures, sells, distributes and services specialty diagnostic products for eye care clinicians and eye banks, and supplies clinical diagnostic products for many of the leading ophthalmic product companies in support of sponsored FDA clinical trials research in the United States and other parts of the world. Konan Medical USA, Inc. is an ISO certified company. For more information on Chart2020 DUO and Konan, visit http://www.KonanMedical.com.