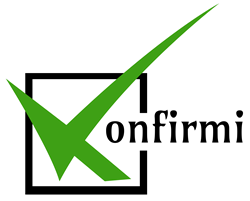 CHICAGO (PRWEB) January 21, 2020
Konfirmi makes online customer verification easy, affordable, and compliant. The company announced today it emerged from its "beta" launch with significant improvements and upgrades to its revolutionary automated customer verification application for websites and mobile apps.
More specifically, with the newly upgraded and improved version of Konfirmi, you can now:

"Konfirmi can be fully set up in under 5 minutes, making customer verifications easy, affordable and secure. You are also able to adjust the verification parameters to suit the specific needs of your business," said Holly Urban, CEO of Incubator, the Chicago-based software development company that built Konfirmi.
You can easily integrate Konfirmi with most any online store, online application, or on-phone application in just minutes. The app also provides multiple different verification options, and allows users to pick and choose which ones they want to use.
Specific "pre-built" integrations are now offered for WooCommerce and many popular WordPress contact forms (such as AgileCRM, Caldera Forms, Contact Form 7, Gravity Forms). Additional integrations will be offered soon.
"Our patent-pending application lets you to decide how much ID verification is cost-effective for your business, as well as which methods you want to use to verify your customers," said Urban.
"It's easy to implement – we provide a video on our website showing the app getting set up in under 5 minutes. This is great for small businesses, and we also offer enterprise solutions."
Businesses that are interested in learning more can get a free trial before making a purchase decision.
Konfirmi wishes to again express it appreciation for the excellent suggestions that its initial users provided during the "beta" launch. "We value customer feedback, and go through a lot of effort to make sure our apps provide the most value and usability for our users," Urban added.
###
About Konfirmi: Konfirmi provides an easy way for you to identify your customers. Set up takes less than 5 minutes! PATENT PENDING. Copyright 2020, Konfirmi LLC. The Konfirmi name and logo are both trademarks owned by Konfirmi LLC. All rights reserved.