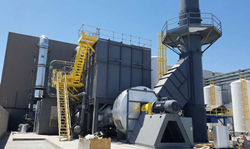 "Does our existing oxidizer have enough capacity or do we need changes?" "We found some issues with our state emissions tests regarding capture efficiency—how do we get it up to where we need it to be?" "We need help. Can Kono Kogs help us?"
GREEN BAY, Wis. (PRWEB) September 24, 2020
Join their expert team as they describe and define VOC destruction best practices, explain thermal oxidation technologies and outline the different types of oxidizers. They'll discuss the basics of thermal recuperative oxidizers, catalytic oxidizers and regenerative thermal oxidizers (RTOs).
The Oxidizer 101 live interactive webinar will be held on Wednesday, Oct. 21 at 10 a.m. It will start with a presentation followed up by a question and answer session.
Prepare your questions and save your spot at http://www.konokogs.com/webinar-signup/
Questions they've heard before include:
"Does our existing oxidizer have enough capacity or do we need changes?" "We found some issues with our state emissions tests regarding capture efficiency—how do we get it up to where we need it to be?" "We need help. Can Kono Kogs help us?"
Each senior member at the company has 25 years of experience reconfiguring thermal oxidizers to meet nearly any air emission stream treatment need. They love a good challenge and look forward to hearing about participants' airstream issues and providing valuable feedback.
About Kono Kogs:
Since 1996, the engineers at Kono Kogs have advised companies about thermal, regenerative thermal, and catalytic and VOC type oxidizers. The services they offer include refurbishing existing systems, preventative maintenance, emergency repair and new unit replacement alternatives. In addition, they also maintain the largest inventory of oxidizers in the US. Carrying this available inventory can cut delivery times by over 50% for their customers.